Anonymous blogging platforms are usually less popular as compared to general blogging systems. People use pseudonyms if they want to blog anonymously.
In this post, I'll share all the anonymous blog sites and writing platforms for anonymous blogging or anonymous blog diary.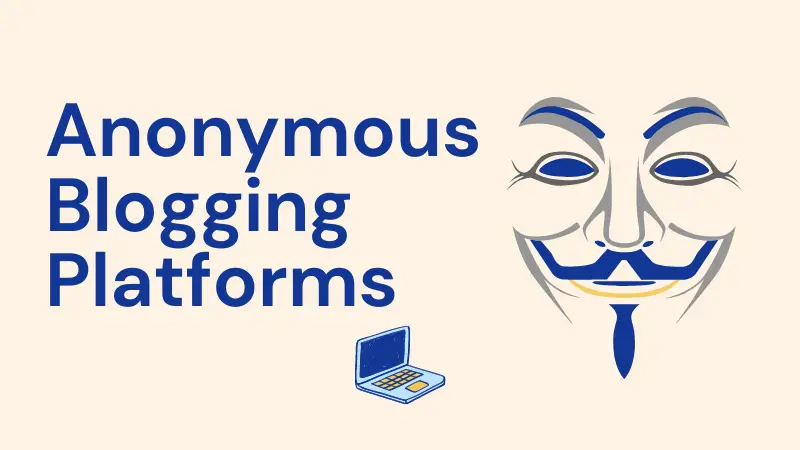 There are a lot of popular anonymous blogs out there if you want some inspiration. Check them out before you start an anonymous blog yourself.
Anonymous Writing
Telegra.ph
Telegra.ph is perfect if you wanna share something anonymously.
Anonymous Blog
Write.as
Write.as is the best service for non-techy or anonymous bloggers.
Full-Featured
Ghost
Ghost is for you if you want full blogging functionality.
Unlike other posts on the web, I have divided this listicle into three categories:
Sounds great? Let's start with the anonymous writing platforms first.
9 Free Anonymous Blog Sites For Anonymous Writing & Posting
These are more anonymous posting websites rather than blogging platforms.
1/ Telegra.ph: Anonymous Blogging Platform
No, it has nothing to do with The Daily Telegraph.
Telegra.ph is an anonymous publishing platform created by the Telegram team. It allows you to create and publish anonymous articles and posts without registration.

You don't need to provide personal information like your name or email address. As soon as you open Telegra.ph, you will see a clean and straightforward user interface with things you need to blog anonymously.
There is a title field, editor, and a few formatting options on the top. You can add images, videos, and tweets by clicking on the icons. That's probably one of the best anonymous posting sites.
Once you are done writing your anonymous article or post, you can publish it by clicking on the 'Publish' button. Telegra.ph will generate a public URL for your article, which you can share with others.
Have a look at my Telegra.ph non-anonymous post: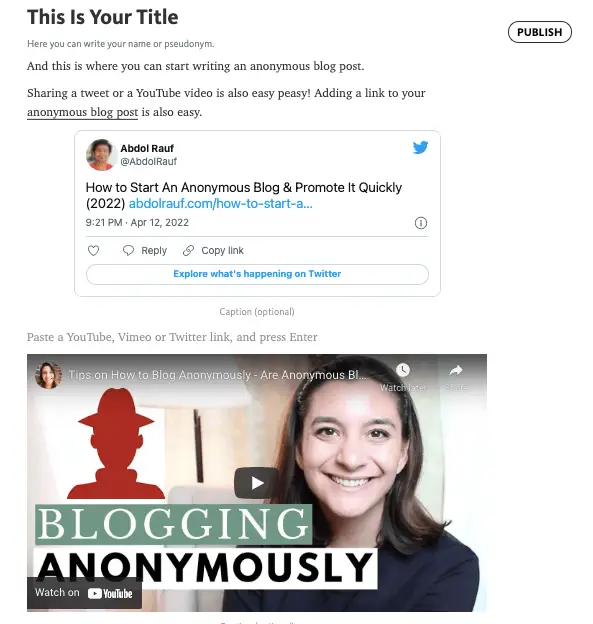 Overall, Telegra.ph is a tremendous free anonymous blog site if you want to publish articles without registration. Let's have a quick look at the pros and cons.
2/ TXT.FYI: Anonymous Writing Site
Short for 'Text for Your Information,' TXT.FYI is probably one of the simplest anonymous writing sites. All you need is to write something, hit publish, and it's live.
No tracking, ad tech, web fonts, or cookies are involved in anonymous posts on TXT.FYI. The only way to find out about an anonymous blogger or writer is if there are relevant links.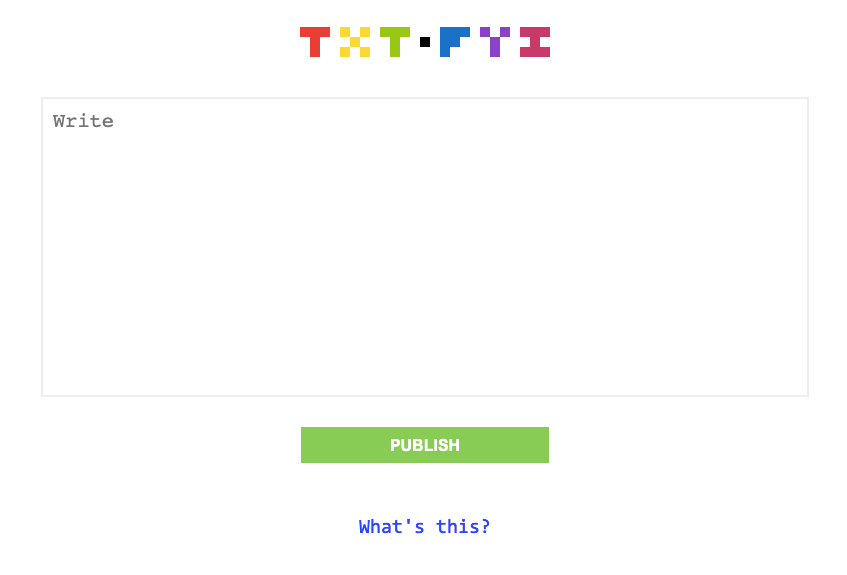 If you want your anonymous content to be found by search engines, this is not the place for it. That's good if you're going to go purely anonymous!
But what I don't like about TXT.FYI is that it doesn't allow easy customization. For example, you must use basic Markdown for #header, **bold**, *italic*, code,>quote, and [link].
3/ Write.as: Anonymous Writing Platform
Write.as is probably the most writer-friendly anonymous blogging platform. It has a clean and minimal interface, making it easy to use.
Writing an anonymous blog post on Write.as offers very few options for a distraction-free experience. They put it this way: "Less Distraction, More Writing."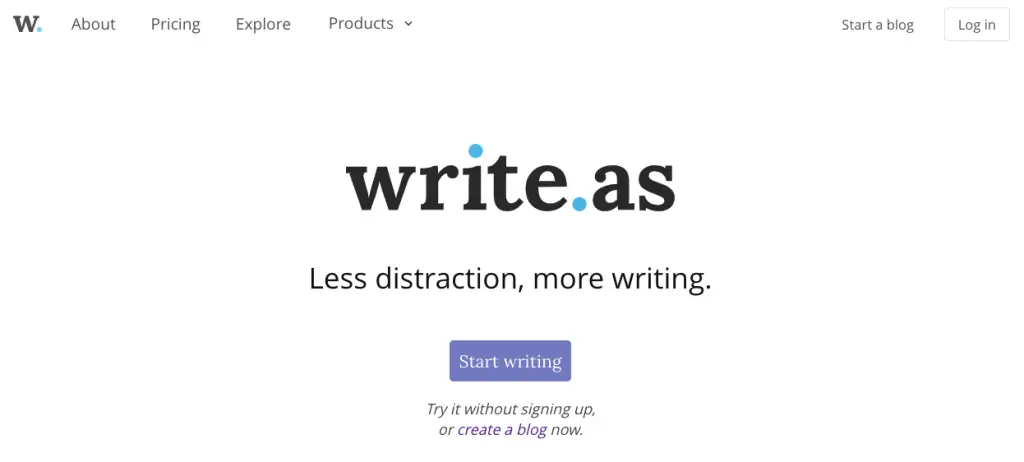 And unlike Telegra.ph, you can see all your posts and articles in one place. You can find them by clicking on the hamburger menu on the right. Also, you can see the word count and font formatting as well.
As of writing this post, Write.as a free blog for individual writers, is not available. So you need to pay a few bucks for having a standalone ad-free blog.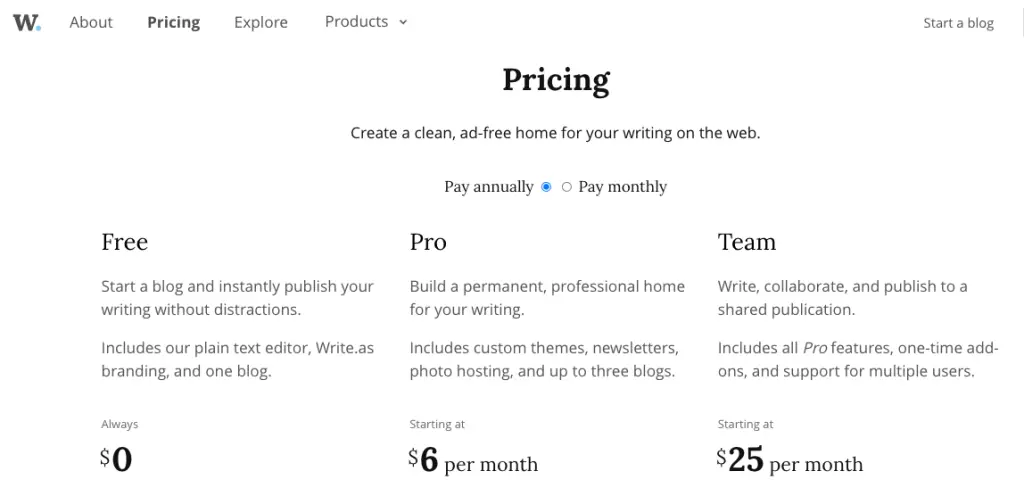 But don't worry; you can still try your hands on this anonymous blog website by clicking on the 'Start writing' button. The anonymous blog app is available for iOS and Android as well.
Write.as sister products for different features but identical interfaces, including Snap.as, Submit.as, Remark.as, and WriteFreely. Let me share what I love and what I don't about this anonymous blog site.
4/ Notepin: Anonymous Note-Taking Site
Notepin helps you create your anonymous blog diary without any signup. You can delete or edit any post using a password. It's a great way to keep your thoughts and feelings private.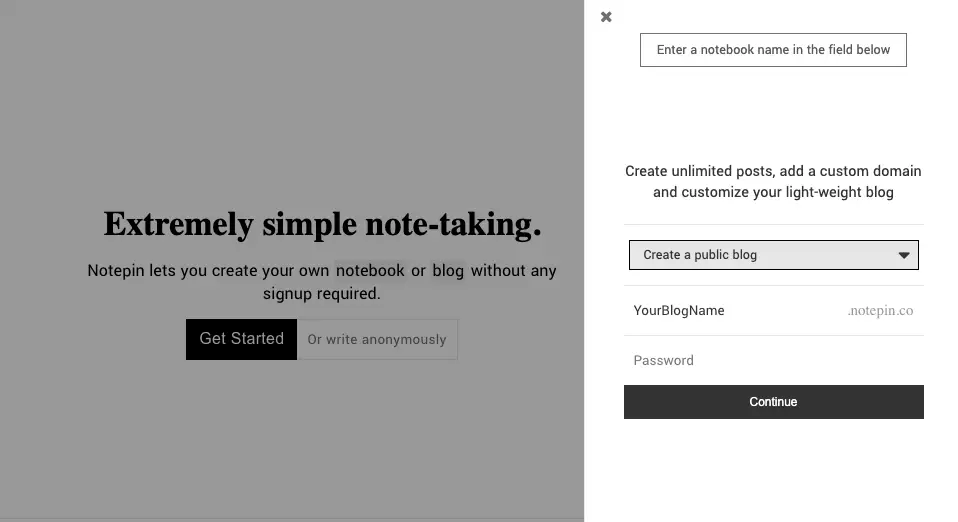 But you can publish and share them publicly on social media without revealing your identity. Readers can also reward you with a ❤️
Anonymous blogging is free on Notepin with a password. But you must upgrade to the premium versions if you want to enjoy these features:
Email Subscription
Custom domain

Text to speech

Pinned note
Speed reader
Night mode
Tables to your notes
Importing your blog from Ghost
Add a subheadings
Integrate with Google Analytics
Create private blog posts
Beautiful themes and ambient sounds
Noten.co is probably the best place to blog anonymously. It's super simple and a great way to keep your secret blog posts safe with a password. Let's have a quick look at its pros and cons now.
5/ Novni: Anonymous Free Writing Site
It's a wonderful anonymous writing platform for writers, freelancers, and bloggers to try freewriting. You can use it for blogging and writing exercises without revealing your identity.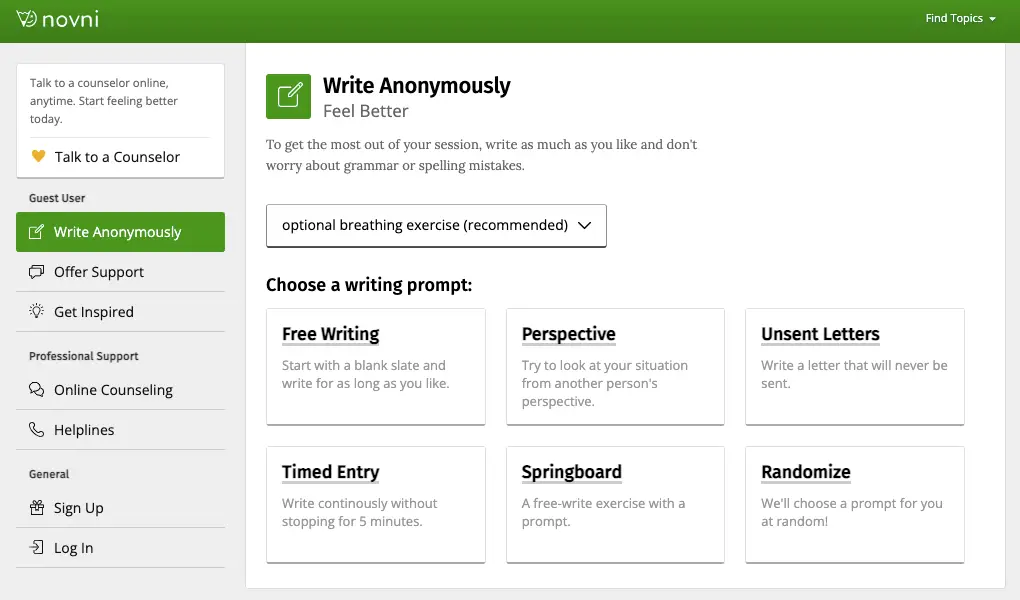 Novni is not for you if you want to talk about something illegal or sensitive. So be careful with this anonymous posting site.
The platform's post-removal policy loses the purpose of anonymous blog sites. You can get more information here on the FAQs.
Novni's motto, "Feel Better," helps you feel better by providing a secure and safe place. And you can also talk to a counselor if you need someone to talk to.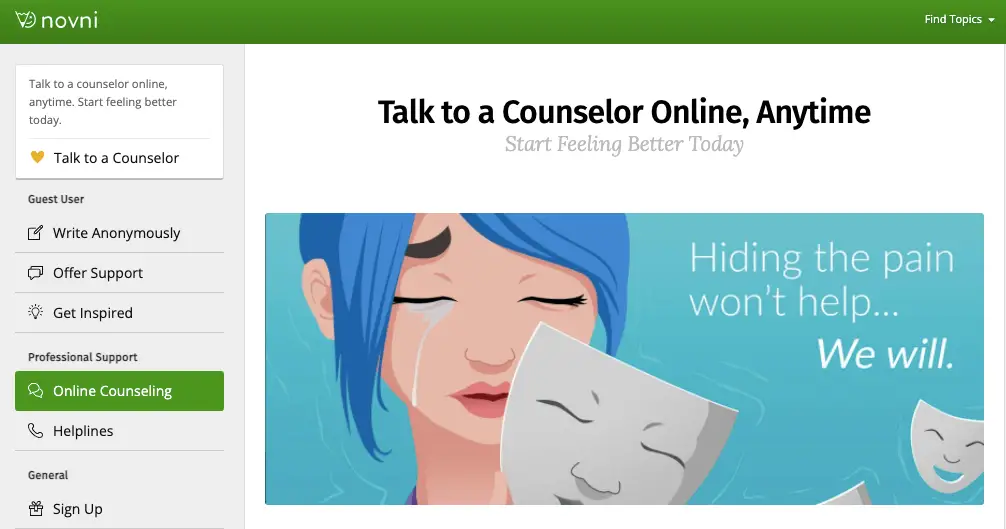 You can also use it for journaling, brainstorming ideas, creating characters, and more.
Here's how to write an anonymous blog post with Novni:
Go to Novni
Choose a writing prompt (Or let Novni do it for you).
Add a title and start by publishing your pieces anonymously.
Choose your privacy options; public or private.
Choose whether or not to allow comments.
Add tags and click the blue button to publish.
You cannot add any personal information like an email or website whatsoever. When you choose your post to be private, Novni will offer a temporary page for you to see. Sign up for the account if you want to save your posts.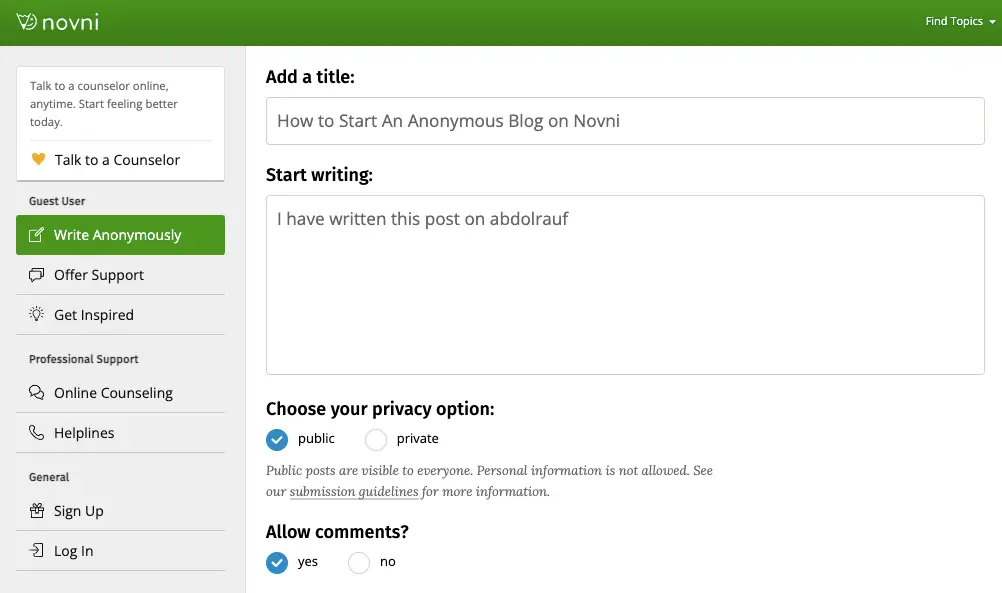 Also, you can enjoy and offer support on the platform.
Now, let me share what I like and what I don't about this anonymous blog site.
6/ Write Anonymously
WriteAnonymously.Com is one of the many anonymous posting sites for writers, poets, and bloggers to share their writing anonymously. It's a haven for you to:
Share your stories about love and depression.
Ask for help, confess, and vent anonymously.
You can add anonymous posts, polls, images, and videos. And you can even start a private thread to discuss your dark stories or wild ideas.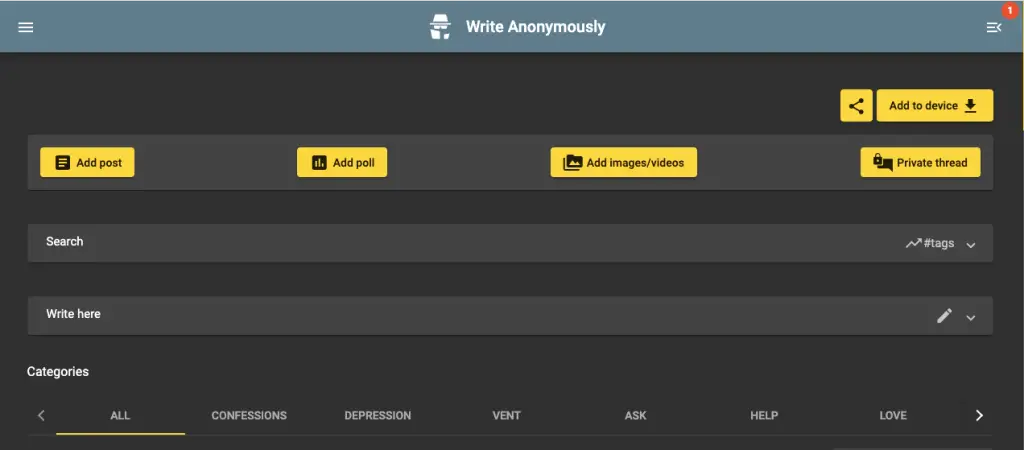 I like this anonymous writing platform because it's downloadable on your computers. And you can upvote, downvote, and bookmark a post you want. You can add tags to reach the right audience as an anonymous post writer.
Let's have a quick look at the pros and cons now.
7/ Letters Anonymous & Write Anonymous Letter
Skip this if you want a full-fledged anonymous blogging platform. I included Letters Anonymous and Write Anonymous Letter to make a versatile list.
Maybe you want to say something to someone, but you never dare! If you're in the business, you want to listen to your employees using these anonymous feedback tools.
Letters Anonymous and Write Anonymous Letter help you share your letters and stories with the world. It's a way to share feelings with others by reading their letters. It's a safe place to get things out of your mind!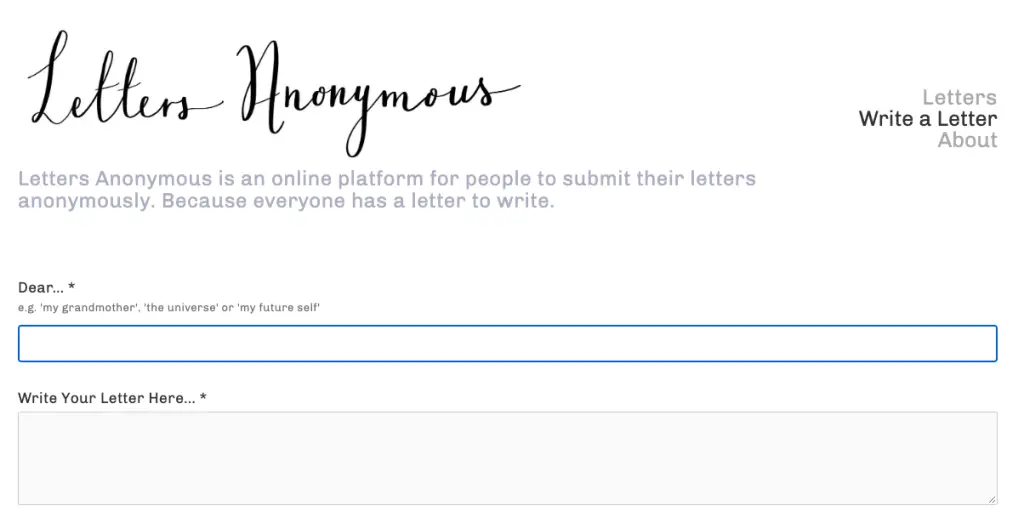 Writing anonymous letters is a real thing. Many people write letters to strangers and never reveal their identities.
8/ Penzu: for Anonymous Writing Online
Penzu is a great place for online journals and diaries. Go for this if you want complete control of your content. It has everything you need to start your free, anonymous blog diary or online journal.
You can enjoy unlimited auto-saved journal entries even with the free plan.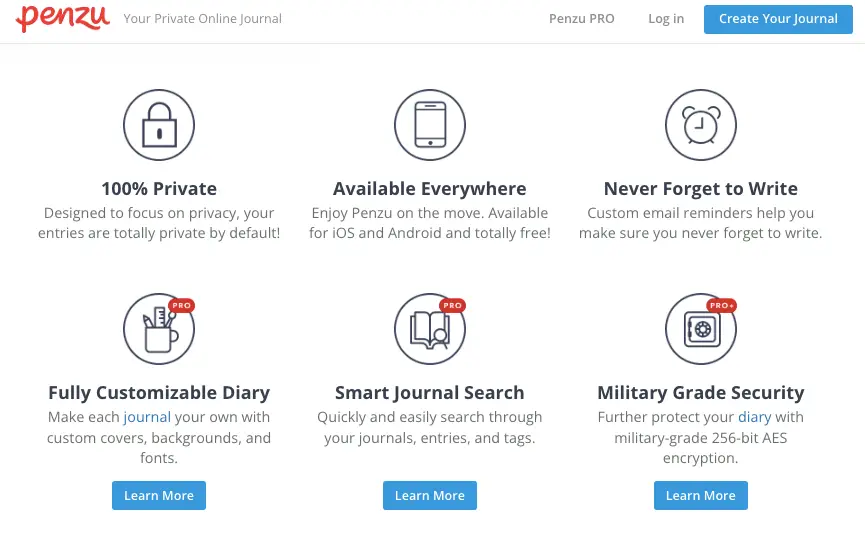 I'll not recommend using Penzu for blogging anonymously, of course. It's just a journaling app with an old-school design. Apps like Day One, Evernote, and Notion are far better for design and features.
But Penzu is an excellent anonymous journaling app with many free and premium features. Let me share a few fors and againsts of using Penzu.
9/ Lyfster: One of the Top Social Anonymous Blogging Sites
Lyfster is an anonymous social network where you can share your stories, ideas, and experiences with the community. It's a tremendous anonymous life-sharing app for Android users to read, write, and share anonymously.

When I downloaded the app, it asked me to "Continue with Google" to start sharing my life anonymously. So this app is probably not for you if you want to enjoy the ultimate anonymity online.
But if you want to share your stories and ideas with like-minded fellows in a safe community, go ahead and install the app.
7 Popular Anonymous Blogging Platforms You May Already Know
These are comparatively popular blogging platforms you can use for pseudonym blogging. These are necessarily content management systems rather than anonymous writing platforms. With them, you can create tons of anonymous blog sites easily.
10/ WordPress – The Best Anonymous Blogging Platform
WordPress is the most popular blogging platform and content management system. It's an ideal platform to start an anonymous blog because it offers a custom domain and anonymous user profile.

Again, you can hide your identity using a pseudonym and a secondary encrypted email address. However, FYI or whistleblowers involved in high-risk content should use something like Tor.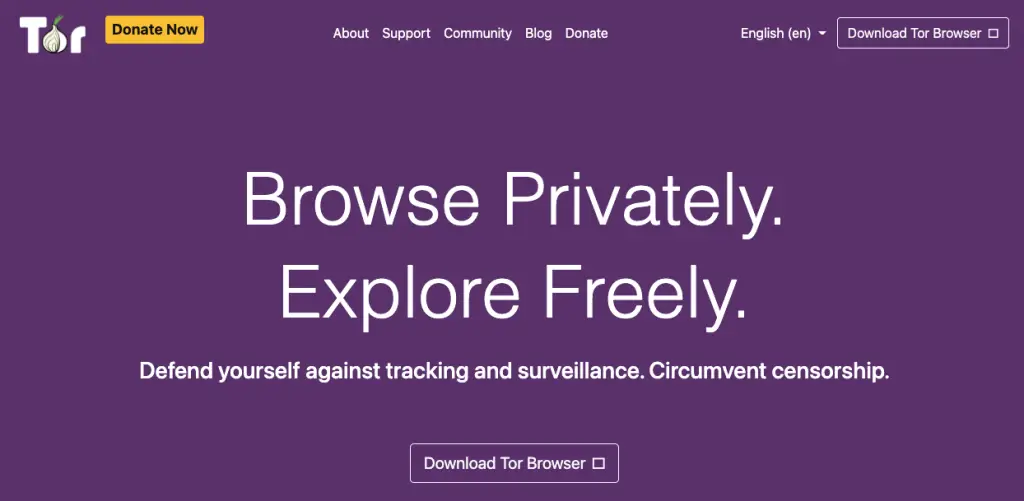 You can blog anonymously for general purposes with WordPress or any other platform. You need to host your blog using the best hosting services. But you can still start your blog for free on WordPress.com.
However, I recommend going for WordPress.org as it gives you more control over your self-hosted blog.
11/ Medium
Medium is probably the cleanest online publishing platform that allows anyone to share ideas and stories. You can think of it as a cross between WordPress and Blogger. You don't need a hosting service to start publishing on Medium.
That's probably one of the top anonymous posting sites or platforms. Have a look at the Medium profile I sometimes use: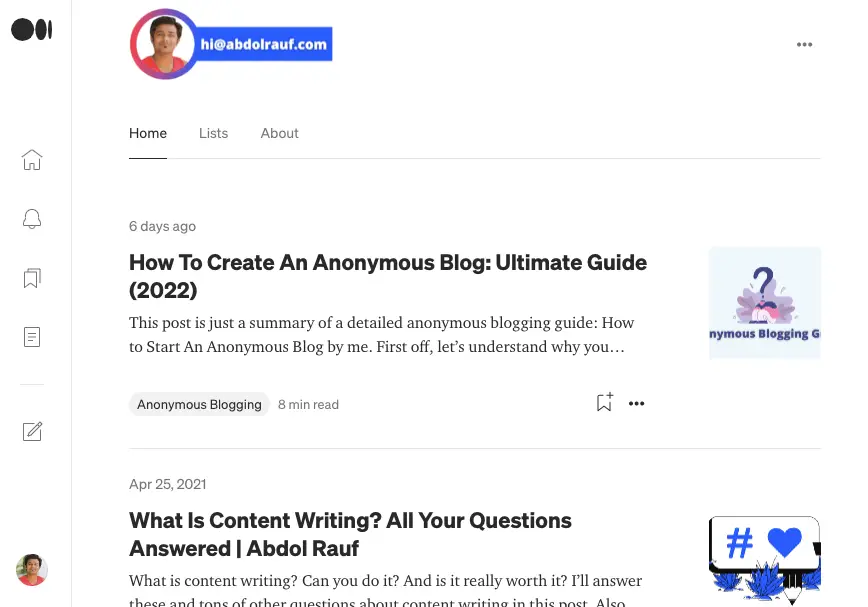 But there's a little twist. You can't create an anonymous user profile on Medium as it requires an account name and email address.
So how do you stay anonymous on Medium? You can use a pseudonym as your author name and an encrypted email account with a VPN or TOR service.
Or use the Medium unlist feature to make your story private. It will not appear in searches, the home feed, or the profile page. But you can still share it using the URL! And that makes Medium perfect for anonymous blog writing.
12/ Tumblr
Tumblr, just like other popular blog sites, doesn't allow you to blog anonymously. Your real name and email address are required to sign up for an account. But you can always use fake personal information to stay anonymous on Tumblr.
And you can add images, links, audio, videos, and whatnot!
Tumblr didn't care for users' identities, and advertisers weren't very keen. Now it's dead, but you can still use it for pseudonym blogging.
13/ Ghost
Ghost is an open-source platform for creating independent blogs, magazines, and news websites. It's an excellent platform for anonymous blogging as it offers a custom domain name and hosting service.
With Ghost, you can create an anonymous user profile with ease. And the best part? You don't need coding skills; they let you control the rules. Unlike Medium and Tumblr, you own the content.
Private and safe search engine DuckDuckGo also uses Ghost to power its blog.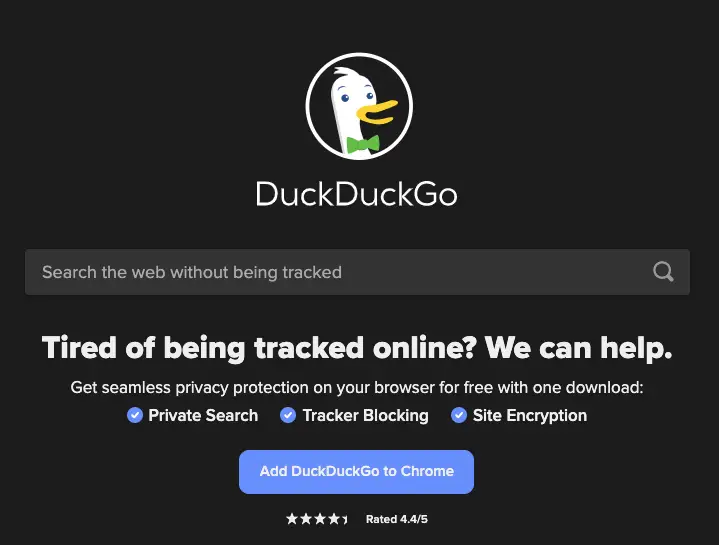 Big brands like Buffer, Unsplash, OpenAI, and more use Ghost to publish their content online. It can be a tremendous anonymous blogging platform if you know how to start an anonymous blog properly.
Still, you must use a pseudonym and a secondary encrypted email address. Creating newsletters is also easy peasy with Ghost.
All these unique features come at a price, though.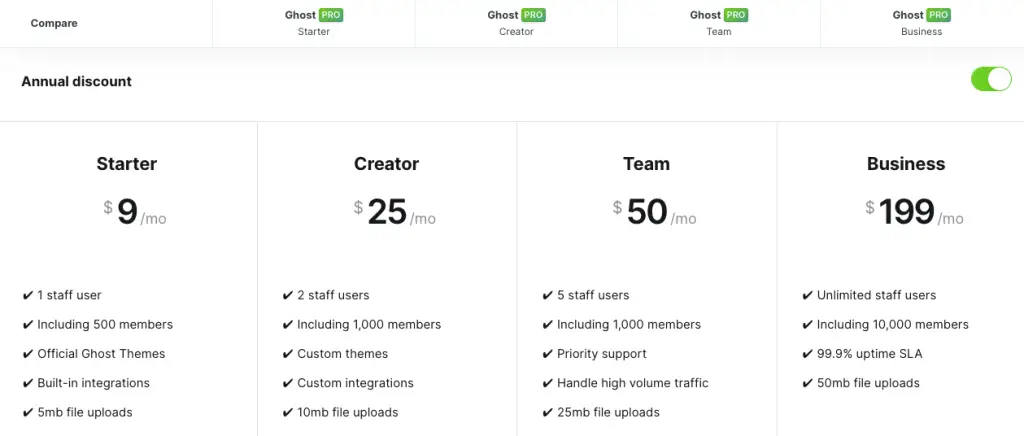 But you can enjoy a 14-day trial before you make the final decision.
14/ Blogger
Blogger is not a standalone anonymous blog site, mainly because you need a Google account to sign up for it. But you can use a secondary encrypted email for that.

The best part is that you can easily create a free blog using Blogger. You can use a custom domain name or a sub-domain like YourAnonymousBlogName.blogspot.com.
But Google can block your account if you walk about too sensitive, illegal, or controversial topics. That may be a deal-breaker!
Let's have a look at the pros and cons now:
15/ ​​Wix
Wix is another site builder like Weebly, allowing you to create a free website or blog. It's super easy to use, and you don't need coding skills.

Like Weebly, Wix provides you with tons of customization options and templates. But you must use a fake name and email account to use Wix for blogging.
16/ Squarespace
Squarespace is a platform that helps you to create a stunning website or blog. It's famous among artists, photographers, and creative people. But you can also use it as a lightweight anonymous blogger.

You need a solid foundation for anonymity if you are a whistleblowing journalist or a severe critic. And for that, read this anonymous blogging guide.
Before using any anonymous blogging platform, consider these risks:
1. Your blog could be deleted at any time without notice.
2. You could be suspended or banned from the platform for any reason.
3. Your identity could be revealed if the platform is hacked or someone files a subpoena.
4. Some agencies or crazy nerds can still catch you 🙁
To ensure the safety of your anonymous writing sites:
1. Never forget to mask your IP address with a proxy server or VPN service before doing anything about your anonymous blog site. TOR services are even better!
2. Use a reputable and well-reviewed blogging platform (My recommendation is Telegra.ph or WordPress)
2. Never share any information that can link back to you. Not even a nickname.
3. Use a pseudonym, secondary encrypted email address, and VPN when signing up for any blogging platform.
4. Pay for the domain, TOR, VPN, or hosting service with cryptocurrency. This further boosts your anonymous blog writing.
I hope these tips were helpful in ensuring the safety of the anonymous blogging platform.
And I also hope you have chosen the right anonymous writing platform for your anonymous blog site. Now is the time to choose a perfect name for your anonymous blog. Contact me on social media or comment below if you have any questions about these anonymous blog sites. Happy anonymous blogging! 😊