Are you looking for a way to collect anonymous feedback from your employees or customers to improve your business? Many anonymous feedback tools are available to help you do that easily. And there are tons of Anonymous QA Tools as well.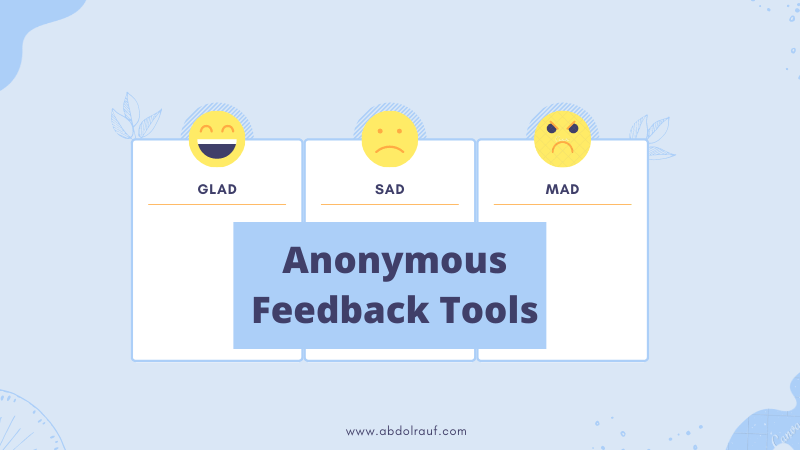 In this listicle, I'll share the top tools for anonymous feedback, anonymous 360 feedback tools, and customer assessment software that are free and paid.
But what's more is that I'll also discuss what each anonymous feedback app does, how it works, and what makes it unique.
Sounds great? Let's start rolling the list right now.
15 Paid & Free Anonymous Feedback Tools for Employees
Group feedback is fantastic for your team's growth, without a doubt. But there are many reasons why some of your customers or employees are afraid to speak their minds. That's where an anonymous feedback collection system comes in!
1/ Vevox
It claims to be the number one anonymous feedback app in the world. Vevox allows you to collect live audience feedback during presentations or meetings. This is done through real-time polls and Q&A sessions.

You can use their pre-made templates or create your own from scratch. The app also offers features like the word cloud and heat maps to visualize data better. Furthermore, you can customize settings.
I have included Vevox in the best anonymous Q&A apps as well. I believe it's an excellent tool for engaging your audience and team members.
Pricing:
Vevox is free for up to 100 participants with unlimited primary multi-choice polling and Q&A Instant Quiz leaderboards. Have a look at this table for premium plans:
2/ Fellow
This toolkit helps remote teams with 1-1s, performance reviews, and feedback sessions. Fellow is an all-in-one 360 feedback tool for remote team growth.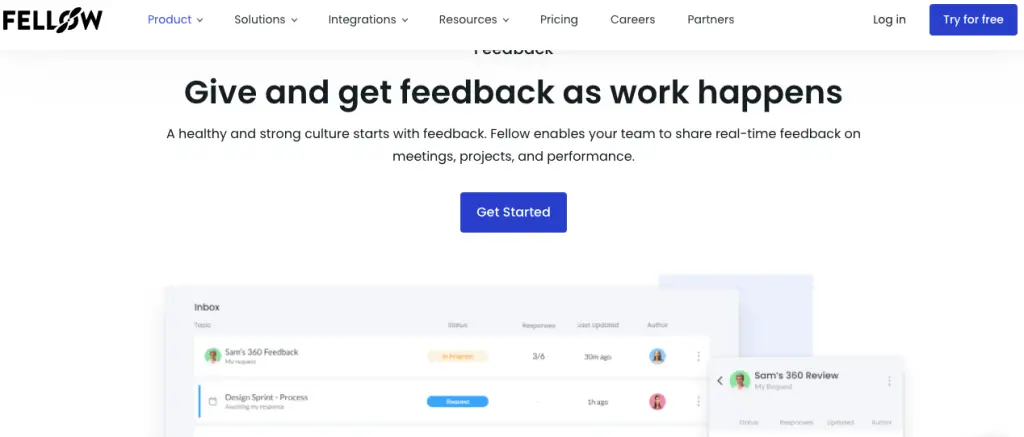 Fellow also offers anonymous feedback and a retrospective tool to build a culture of continuous assessment. It allows you to collect honest feedback without anyone knowing who said what!
And you can do it with helpful template designs or create your own from scratch. It's an almost perfect team engagement tool for managers, leaders, organizations, and remote teams.
Pricing:
The Fellow app is free for teams of up to 10 users. You need to upgrade to the Pro plan for a larger team, starting with $6/user per month.
3/ Poll Everywhere
Poll Everywhere is an audience interaction tool that lets you collect real-time feedback via surveys, Q&A, quizzes, etc. It's one of the most popular live polling tools available out there.

This online feedback management system offers an anonymous feedback tool with multiple-choice, live word clouds, and Q&A sessions. Plus, you can run employee surveys or customer satisfaction polls.
The best part? You can do all of this without any app download!
And you can always integrate Poll Everywhere into PowerPoint and other apps to create interactive presentations. Big companies like Google and Amazon use this tool to get employee feedback.
Pricing:
Poll Everywhere offers a free plan for unlimited users and questions but a 25-max audience size. And I believe it's incredible to convert your meetings into impactful experiences.
For a 700 max audience size, the pricing is $120 per year. And it further increases as you grow your team and enjoy more premium features.
4/ Typeform
It's a form-building software that allows you to create beautiful, anonymous feedback forms, quizzes, and more. I've been using Typeform for a while now, and it's one of my favorite feedback tools because of its clean design.

With Typeform, you can easily collect anonymous responses or create employee satisfaction surveys. The best part? You can do it seamlessly with tons of customizations and over 800 templates.
And there's a massive library of images, videos, and icons to make your form more engaging. You can also add logic jumps to your survey to make it more interactive.
Pricing:
Typeform offers a free plan for unlimited Typeforms but with 10 questions and 10 responses each month. If you need more, upgrade to one of their paid plans that start at $25 per month.
5/ Jotform Anonymous Survey Maker
It's an easy-to-use, free survey tool that helps you collect feedback online. It's great because you have complete control over your survey forms. You can clone tons of customizable templates!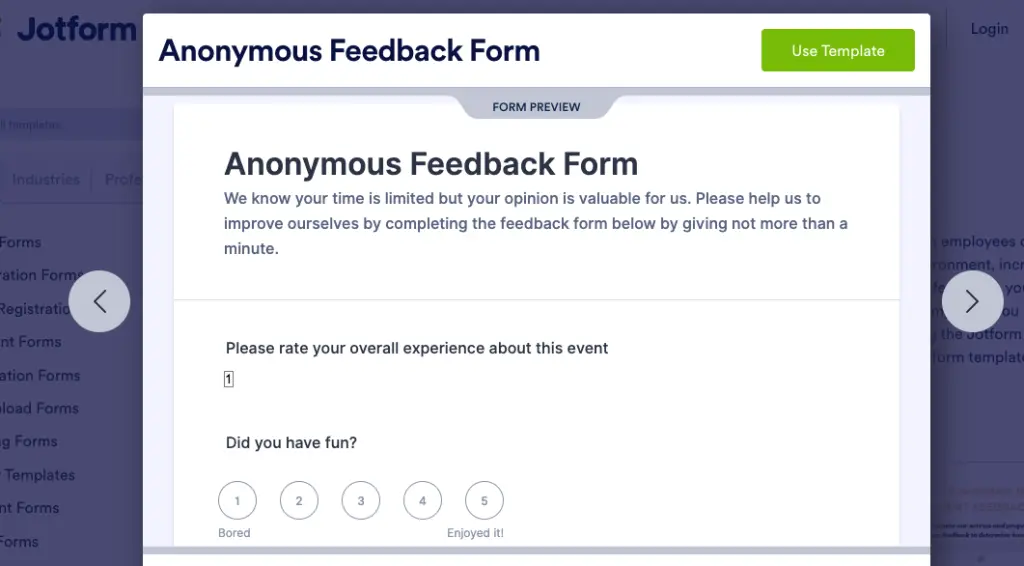 A drag-and-drop form builder makes it super easy to create surveys. You can add conditions, limits, and file uploads as well. What's best is that Jotform offers support in over 20 languages.
And if you are a non-profit or educational organization, you can avail 50% discount on all the premium plans.
Jotform offers a free plan with all the features for 5 forms, 100 monthly submissions, and 100 MB of space. And you can avail of this plan if your forms have 1000 monthly page views and 500 submissions.
Of course, there will be Jotform branding on your forms. If you need more, you can choose from one paid plan starting at $24/month.
Pricing:
6/ Free Suggestion Box
Are you looking for a completely free anonymous feedback tool? Then you're in luck because you've got a Free Suggestion Box. It helps you create a free form or suggestion box with a few clicks.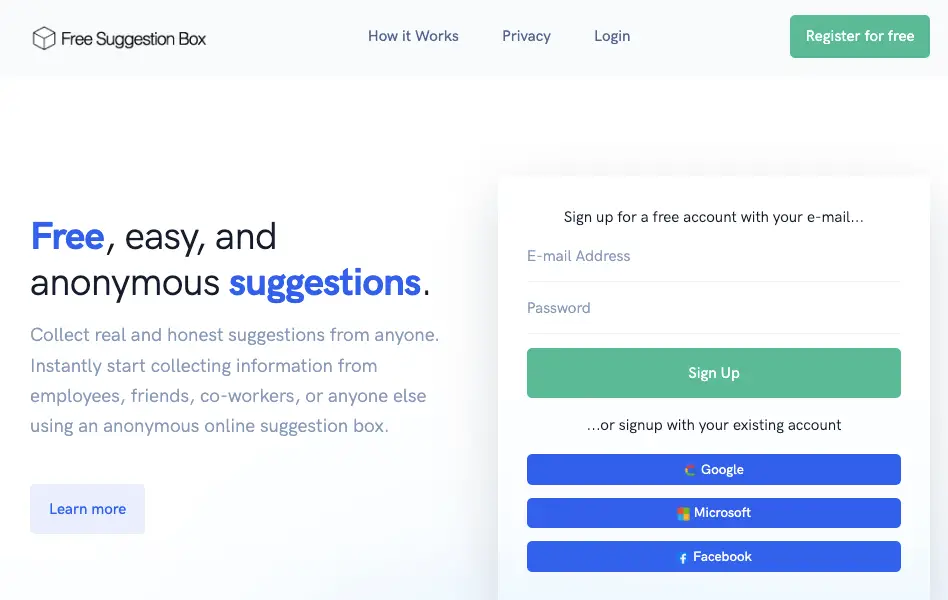 It's super easy to use; you only need to sign up! Enter your email address, choose a password, and create your anonymous feedback form. You can add as many fields as you want, and there are no limits!
And because it's 100% web-based, your team members can access the anonymous suggestion box from anywhere. I believe it's a great anonymous employee feedback tool for your business.
Pricing:
The Free Suggestion Box is free to use, of course 🙂
7/Suggestion Ox
But if you want something more premium than a Free Suggestion Box, you need to check out Suggestion Ox. It's an anonymous suggestion tool for businesses to find out what you're not hearing!
It helps you collect feedback from your employees, customers, or other stakeholders. You can use it to create surveys, polls, or just general suggestion forms. All the responses are entirely anonymous.
Suggestion Ox offers two-way conversations, which means you can write back respondents without revealing their identities. And that's probably the best feature of this anonymous feedback app.
Pricing:
Suggestion Ox has flexible pricing based on your company's size, so you need to request a demo.
8/ Survey Monkey
It's probably the most popular survey app out there. Survey Monkey also allows you to get anonymous employee or customer feedback. You can use it to create polls, quizzes, or just general feedback forms.

It's not just a survey tool but an all-in-one team engagement app that offers many features. You can use pre-made templates or design your surveys from scratch.
You can learn much about creating and analyzing surveys from Survey Monkey's colossal resource section. And you can also understand customer experience and retain employees as well.
Pricing:
Survey Monkey offers different plans for individuals, teams, and enterprises. However, you can start for free if you need the basics. The standard annual plan starts at $16 per month for one user.
9/ Incogneato
It offers a secure and anonymous suggestion box for businesses. Incogneato offers a safe place for your employees to speak their minds without fear. It's a fantastic tool for collecting feedback and improving company culture.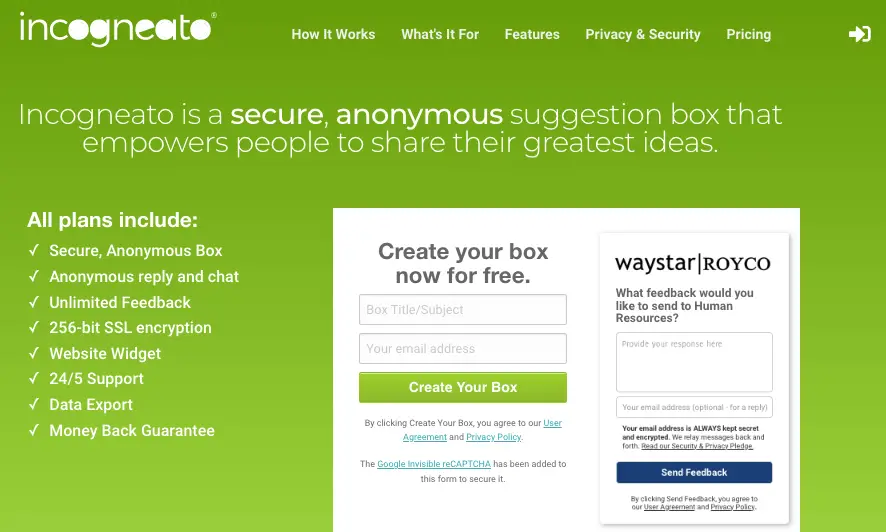 This anonymous employee feedback software allows you to create unlimited forms and fields. You can also create surveys, polls, or just general suggestion forms. And chatting anonymously with the respondents is also possible.
Pricing
The pricing of Incogneato is pretty straightforward and starts from $9 per month for an anonymous chat and unlimited boxes.
10/ Delighted: AI Feedback Tool by Qualtrics
Qualtrics, America's leading experience software company, developed this AI feedback tool that can be used for anonymous feedback. It helps you automate your assessment system with automation.

Unlike other anonymous feedback tools, Delighted optimizes the survey experience. It also offers various features like engagement, NPS score, and more.
Delighted AI is powered by the company's millions of customer feedback amassed over time. It gives you feedback data so that you can understand customer feedback better.
It also provides you the daily, weekly, or monthly customer satisfaction metrics. This tool can also use email throttling, response filtering, and adaptive sampling.
Pricing:
Delighted offers different annual plans depending on the features and users you need. The free plan has one delivery platform, one project, and a monthly survey sending limit of 1,000. The premium plan costs $224 monthly, and the Premium Plus plan costs $449.
11/ Workday Peakon Employee Voice
It's yet another AI feedback tool you can use to collect anonymous responses from your team. Workday developed it, a leading provider of enterprise cloud applications for finance and human resources.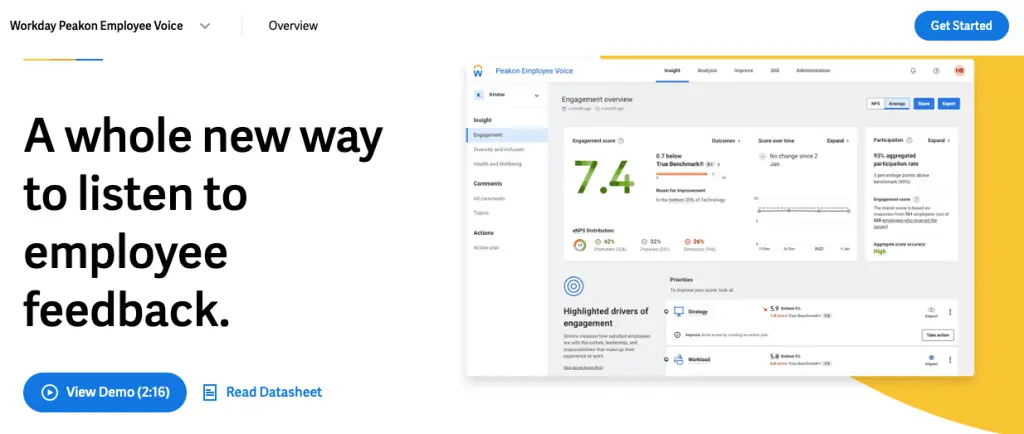 This anonymous employee feedback software helps you to measure employee engagement in real-time. Machine learning and AI analyzes the data and provide you with valuable insights.
You can listen closer to act faster and learn how people feel around you. Boosting productivity has never been easier with Workday Peakon. And resources like reports, webinars, and podcasts are readily available if you need help.
Pricing:
Workday doesn't reveal the pricing on its website. You'll have to request a demo to get a quote.
12/ WhistleBlowers
It's an anonymous reporting mobile app that helps you report issues or concerns at work. You can use this app to report sexual harassment, discrimination, and other unethical behavior in the workplace.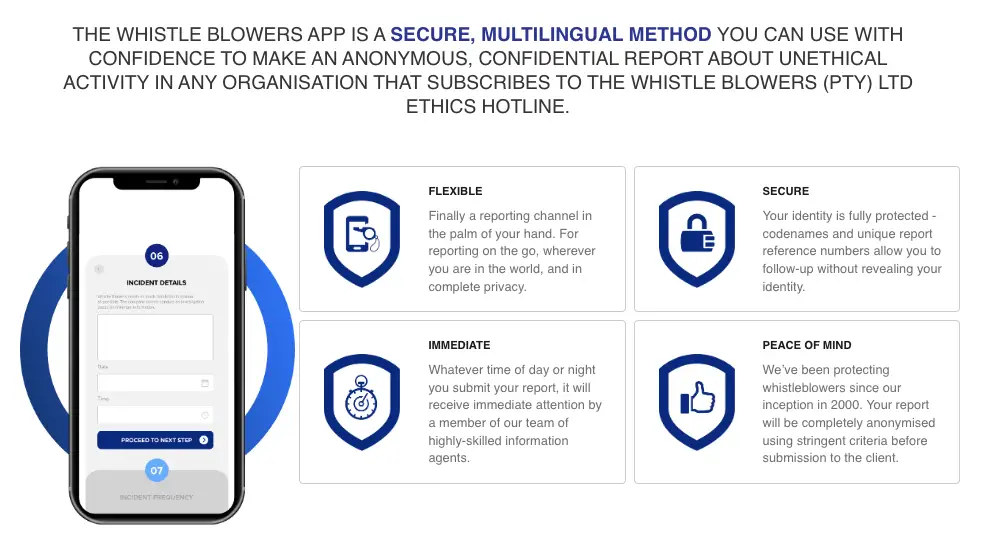 The reporting system is available 24/7, and you can use it to report anonymously. The app will then send the information to the company's leadership to take appropriate action.
And the app is available on Android and iOS devices.
Pricing:
WhistleBlowers is a free app with no paid plans.
13/ Peachy Mondays: Anonymous Employee Feedback Tool
You'll love Peachy Mondays if you haven't found the right tool yet. It's an employee engagement tool that helps you quickly take and give feedback. The user interface is straightforward.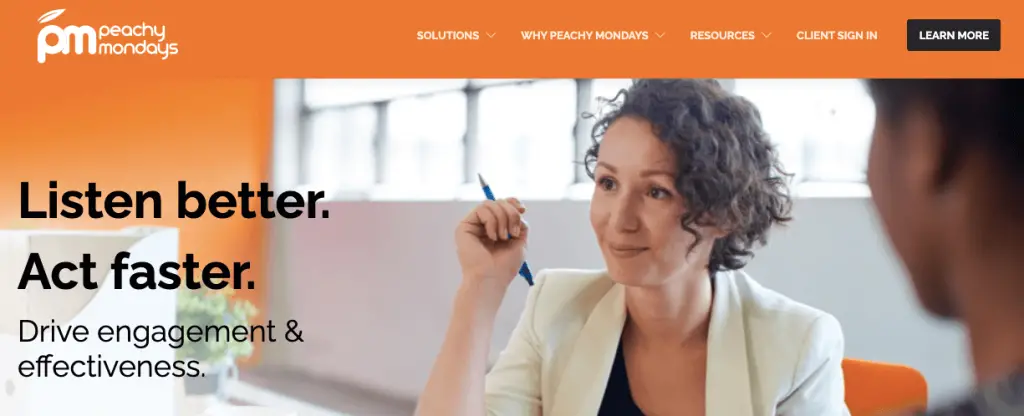 This anonymous feedback feature allows you to create unlimited forms, questions, and responses. You can also use it to create 360-degree responses, annual performance reviews, or customer satisfaction surveys.
Pricing:
With a starter plan, you can start for as low as $ 1.40/employee/month and run customizable, unlimited surveys and pulses.
14/ Tiny Pulse by Limeade
This employee engagement tool helps you build your team faster than ever. And it provides you with everything you need to listen to your team members, including an anonymous feedback system.

Tiny Pulse offers 1-on-1 agenda builders to help managers and employees connect. It also has a recognition tool so that you can appreciate your team's work. And you can integrate with apps like Slack and MS Teams on the go.
Pricing:
Tiny Pulse doesn't reveal the pricing on its website. You need to request it! But it's said to be $5 per month per employee on ClarityWave.
15/ Spidergap: Anonymous Employee Feedback Tool
Spidergap is a 360 feedback tool for employees and team members that helps you get an anonymous response. It takes to sign up, create your project, and start collecting feedback.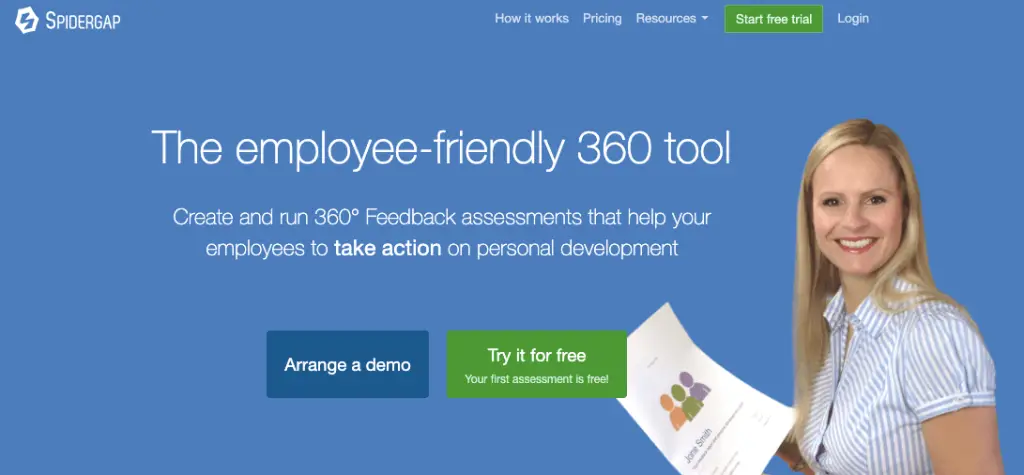 See, it's easy to use and quick to deploy. After you're done, you can share the results with your team members and leadership. If unsure, you can always try one assessment with Spidergap for free.
Pricing:
Spidergap has a free-forever plan that is perfect for individuals.
The pricing depends on the number of employees in your organization. For example, with the Basic plan, you can get 10 team members onboarded for $989 per year. And for 50 employees onboarded, you need to pay $3859 per year.
FAQs on Anonymous Feedback Tools, Apps, and Software
Anonymous employee feedback tools are crucial for your business if you want to improve the customer experience or employees' productivity. Some frequently asked questions can help you understand the subject better.
What is anonymous feedback?
Anonymous feedback is basically when people can leave their feedback without revealing their identity. This type of feedback is often used in workplaces or online platforms to get an honest opinions from employees or customers.
Why is anonymous feedback bad?
Anonymous feedback is not bad if used properly. It can be very helpful to improve customer experience, employee retention, or products and services. Let me share more on this in the next question.
Why is anonymous feedback important?
Anonymous feedback is essential because it helps businesses to get honest feedback that they can use to improve their products, services, or workplace.
It also helps build transparency and trust between businesses and their employees or customers. It also helps reduce bias in feedback.
What is an anonymous feedback tool?
Anonymous feedback tools are software or apps that help businesses collect customer or employee feedback without disclosing the reviewer's identity. This post has shared the top 27 feedback apps to help you get started.
What are the benefits of using an anonymous feedback tool?
If you are not new here, you already know my love for online tools and apps. Why? Because they offer seamless solutions on the go!
Here are some benefits of using a confidential feedback tool:
1/ Encourage employees or customers to give honest feedback.
2/ Improve your business based on the feedback received.
3/ Builds transparency and reduces bias in feedback.
4/ Save your time and cost to get the correct feedback.
6/ Automates the process of collecting and analyzing feedback.
7/ Helps you improve customer satisfaction or employee retention.
What is customer feedback software?
Customer feedback software is a tool that helps businesses collect customer feedback. It is often used to improve customer satisfaction or the overall customer experience.
Qualaroo, Hubspot CRM, GetFeedback, and more are among the top customer feedback tools.
What are 360 feedback tools and software?
360 feedback tools are usually used in workplaces to collect employee performance feedback. They are also called anonymous employee feedback tools. Managers, co-workers, or customers often give this type of feedback.
These omnichannel tools allow you to manage the feedback exchanges between managers, employees, or peers. According to G2, 360 feedback tools must:
1/ Manage feedback exchanges.
2/ Survey to give feedback assessments.
3/ Create your questions and templates.
4/ Store historical appraisal data for analysis and reporting.
How to get anonymous feedback online?
These are mainly three methods to get feedback online anonymously.
1/ Use feedback tools like Vevox or Suggestion Ox.
2/ Create surveys using PollEverywhere or SurveyMonkey.
3/ Create forms using TypeForm, Google Forms, or Microsoft Forms.
Don't ask for personal information in the survey or form to make it anonymous. And instruct your employees or customers to be specific, honest, and respectful while giving feedback.
And you can always try out free anonymous feedback tools like Free Suggestion Box. 
Want more? Visit these anonymous Q&A tools right now. By the way, which anonymous feedback tool would you like to try? Let me know in the comments below; I will reply to each comment 🙂 Also, give your feedback about these anonymous feedback apps.