Anonymous image sharing is essential in the digital world, especially when the images have confidential information. In this post, I'll share the top 7 best anonymous image hosting sites to help you share your image files privately. 
Whether you are a blogger, content creator, or just privacy-conscious like me, going anonymous is a smart choice. I believe in raising my voice while protecting myself. That is why I have also covered anonymous Q&A tools and feedback tools.  
You might also want to learn how to start an anonymous blog and anonymous blogging platforms. And if you want some inspiration, do check out popular anonymous blogs.
But never use any tool or platform to harm someone or do illegal activities. Due to these malpractices, many anonymous image sharing sites like VAA.Red, Framapic, and Teknik have been terminated.
With that disclaimer, let me dive in!
Top 9 Best Anonymous Image Hosting Sites
When choosing these anonymous image hosting services, look for these factors:
Security: Ensure the platform provides robust security measures to protect your data.
User-Friendly Interface: To make your experience smooth and hassle-free.
Upload and Sharing Options: Look for customization options for sharing your images.
Speed and Reliability: To Ensure your images are always accessible.
Support and Community: Because it is invaluable.
With Generative AI taking over the world, you can enjoy these features in most tools. 
Now, let's explore the top 7 best anonymous photo hosting sites. 
1/ ImgBB
ImgBB is a free user-friendly privacy-focused image hosting service that makes sharing images easy. You can upload images without creating an account, with a 32MB limit per image. They offer a useful auto-delete feature, allowing you to set an expiration time for your images.

ImgBB also provides an uploader plugin for website integration. You do not need an account to start hosting your images anonymously. 
However, all files go through moderation, which may not suit everyone, and the premium account option isn't entirely anonymous as it only accepts PayPal payments.
Privacy-Focused Features:
No Registration Required. 
Auto-Delete Function
No Personal Details Required
2/ PUT.RE
PUT.RE is a privacy-focused image hosting service that prioritizes user confidentiality. It stands out for not offering account creation, ensuring your data is not tracked or logged. Your files are fully encrypted on their servers, enhancing privacy.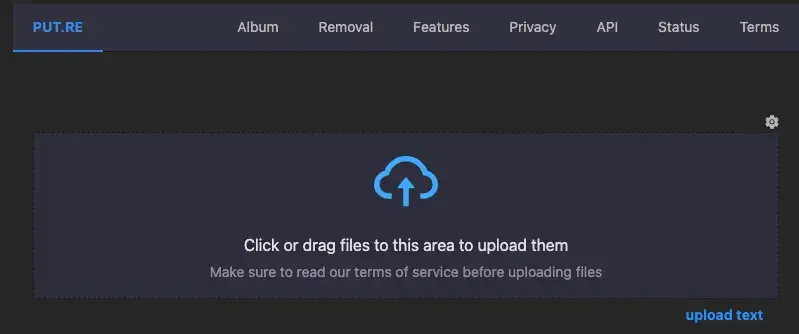 Key Features:
Complete Privacy: Put.re's strong focus on privacy means no account creation is available. Your files are encrypted on their servers, preventing unauthorized access.
Generous Uploads: The platform offers a spacious 200MB file upload size limit and accepts various file types, making it user-friendly.
Zero Data Storage: Put.re does not store any personal data, including IP addresses or metadata, enhancing your online privacy.
3/ Pasteboard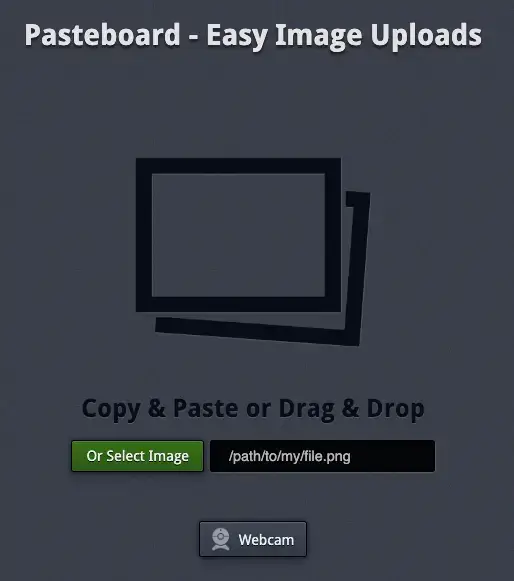 Pasteboard is an anonymous image hosting board. It allows users to upload images quickly and anonymously.
While it has limitations, including a 10MB file size limit and content restrictions, it's an excellent choice for those seeking basic and privately hosting images.
You do not need to register an account to share anonymous images. Premium accounts with extended features are also available. 
Key Features:
Speed and Simplicity: Pasteboard emphasizes fast and simple image uploads.
Privacy Assurance: Ensure anonymous hosting and prohibits certain content.
Premium Options: For advanced features.
4/ Imgur
Imgur, a well-established image and file-sharing website, has operated since 2009, garnering a large and loyal user community. It offers versatile image and video hosting; you can share content anonymously without creating an account.

Also, you can upload pictures and videos without a file size limit. However, the platform may save your IP address for law enforcement purposes.
Key Features:
Versatile Hosting: Imgur supports various content types, making it appealing to a broad audience. Users can share images and videos seamlessly.
Content Restrictions: While it provides flexibility, Imgur has clear content guidelines to maintain a respectful environment, prohibiting illegal, threatening, or harmful content.
Privacy Considerations: Users can upload content anonymously without needing an account. However, creating an account requires a phone number, which may impact anonymity.
File Size and Upload Limits: Imgur enforces a 20MB file size limit for images and allows up to 50 image uploads per hour to ensure smooth platform operation. 
5/ Postimage
Postimage is a well-established anonymous image-sharing platform, in operation since 2004. It offers reliable and straightforward image hosting, emphasizing user-friendliness.

Postimage stands out for its lack of file size limits, allowing users to upload images of varying sizes. You can upload images without an account, and if you choose to create one, it's a simple process requiring only your email address.
The site offers a Windows app for easy desktop uploads and website plugins to streamline image inclusion in various online spaces.
The platform adheres to clear content guidelines, prohibiting illegal material and "hate speech." Importantly, it does not accept adult or NSFW content. It also enforces a 24MB file upload size limit, allowing it to upload multiple images simultaneously.
Privacy-Focused Features:
Account Flexibility: Postimage allows for anonymous uploads, maintaining user privacy. Account creation is optional, offering a balance of convenience and anonymity.
Content Guidelines: Strict guidelines ensure a respectful and safe environment, with clear prohibitions on illegal or harmful content.
Flexible Upload Limits: Postimage's lack of file size limits and the option to upload multiple images cater to different user needs while ensuring reliability and privacy.
6/ ImageBam
ImageBam is a basic and free platform for anonymous image sharing, known for its simplicity. They also allow adult content hosting. It offers users an intuitive uploader and various content settings.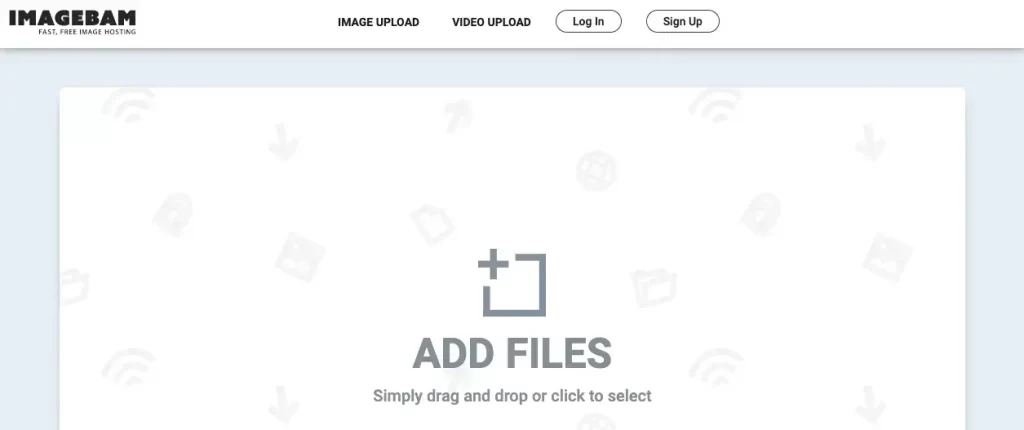 ImageBam provides a user-friendly platform for hosting images and videos. Users can categorize content as family-friendly or adult-related and choose thumbnail sizes.
Premium accounts offer advanced management tools with a relatively anonymous registration process. The platform enforces content guidelines, focusing on illegal and copyrighted material while prohibiting media promoting terrorism.
Privacy-Focused Features:
Content Categorization: Categorize your preferred content, ensuring clarity and choice.
Premium Account Anonymity: Requires minimal personal information, maintaining user privacy.
Content Freedom with Restrictions: Maintain a safe and respectful environment while offering content freedom within those boundaries.
7/ ImageVenue
ImageVenue provides anonymous image hosting with the embedding feature. It simplifies sharing digital photos on social media, blogs, newsletters, and message boards.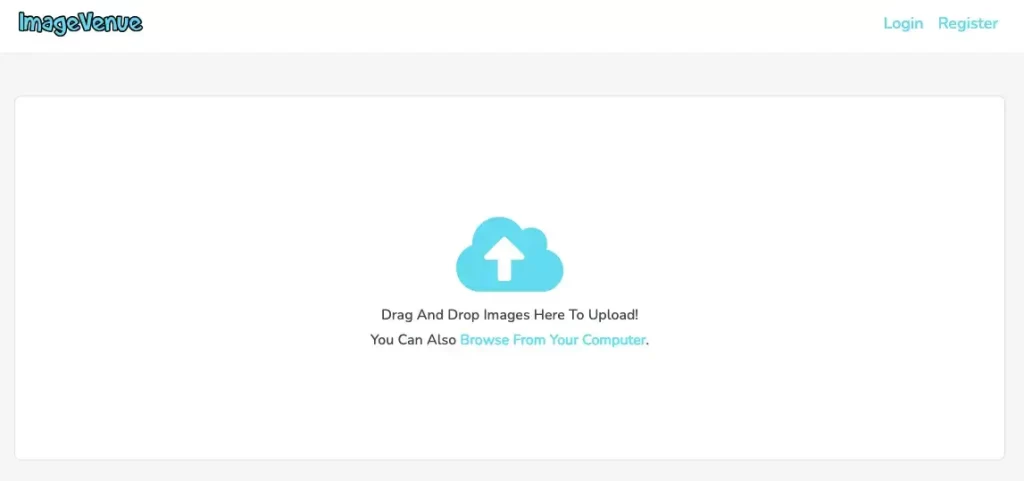 ImageVenue's design facilitates easy image sharing without the need for re-uploading. It accepts images exclusively in JPG and JPEG formats, with a maximum file size of 6 MB.
And the best thing is that it is a free hosting service supported by text links from advertisers, allowing users to enjoy hosting at no cost.
Privacy-Focused Features:
Anonymity for image hosting, preserving user privacy.
Format and Size Limitations: Impose content restrictions on image formats and size.
Unlimited Hosting Time: Images hosted on ImageVenue have unlimited hosting time, ensuring long-term accessibility and availability. 
8/ Pic4Net
Pic4Net offers an easy and free way to share photos online while maintaining privacy. Let's explore what makes this free anonymous image hosting service unique. It simplifies the process of sharing your images. It involves just three simple steps:
Upload your pictures.
Copy the provided link.
Share it with your friends.
Post it on forums.
Use it on your website.
One of the standout features of Pic4Net is that it's completely free, and you don't need to register to use it. You can start sharing your photos right away without the hassle of signing up for an account.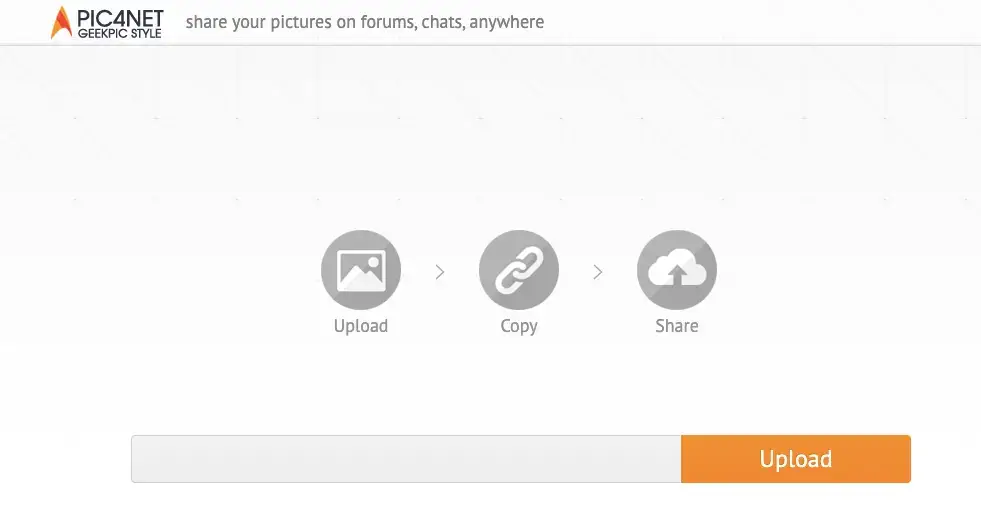 Pic4Net values your content's accessibility. It ensures that your images are available for as long as needed. There's no limit on the storage time, giving you peace of mind.
Privacy-Focused Features:
No Registration: You can use Pic4Net without registering, enhancing your privacy and eliminating the need to share personal information.
Extended Storage Time: Your images remain accessible indefinitely, providing long-term availability and convenience.
Simplified Sharing: Pic4Net's straightforward process for uploading, copying, and sharing images minimizes complications and ensures a hassle-free, private sharing experience.
9/ Hosting Sites
Hosting sites offer a unique, independent, paid, anonymous photo-sharing service that prioritizes your privacy. Let's explore what sets this platform apart and its privacy-focused features.
Hosting services like TMDHosting stand out as an independent platform, which means it's not tied to a more extensive network or corporation. This independence can be a significant advantage when it comes to privacy.
While Hosting Sites is not a free service, it offers a paid option. The advantage of this is that it often leads to enhanced privacy features and a more secure user experience.
Hosting Sites takes privacy seriously, and users can expect complete anonymity when using the service. No personal information is required or collected during the registration process.
Privacy-Focused Features:
Independence: Being independently operated increases transparency and control.
Paid Service: Paid services often include additional privacy measures.
No Personal Information: The platform's commitment to complete anonymity ensures that no personal information is needed or stored during registration, protecting user privacy.