People have been using the recently hyped AI language model ChatGPT for productivity. The most-efficient method is to use the best ChatGPT productivity prompts. But that's not it!
ChatGPT has paved the way for a new era of productivity tools, apps, and extensions powered by API and ChatGPT prompts.
In this post, you'll discover powerful ChatGPT productivity tools and extensions that will ignite your productivity, enhance your workflow, and unlock the full potential of your digital endeavors.
I'll also share my favorite ChatGPT productivity apps and ChatGPT alternatives to boost your work efficiency. And then, I'll answer a few questions about ChatGPT's power to boost productivity.
Top 8 ChatGPT Productivity Tools & Extensions
Not only can you leverage ChatGPT's power through AI Prompts, but you can also tap into its robust API to tailor your workflow and supercharge productivity.
Worry not if you are not into coding; many developers have come forward to build tools and apps with the power of ChatGPT. Let's begin with the first tool on the list now.
1/ GPT for Work – Use ChatGPT in Google Sheets and Docs
GPT for Work is a Google Workspace add-on titled "GPT for Google Sheets and Docs" that brings the power of GPT to your Google Sheets and Docs.
GPT for Work supports various models like GPT-4, ChatGPT, and GPT-3. You can use them all if you have access, of course. GPT for Work is one of the best ChatGPT productivity tools.
With GPT for Sheets, you can easily clean lists, extract entities, and convert formats. Here are a few more features of GPT for Sheets or reasons to use.
Create taglines and headlines.
Fix grammar and spelling errors.
Generate ad copy quickly.
Write product descriptions.
Tag and categorize items.
Craft subject lines and emails.
Translate any content soon.
Create outlines for blog posts.
And GPT for Docs helps you edit, summarize, translate, and classify content. You can also generate ad copy, taglines, titles, product descriptions, outlines, blog posts, emails, and more with the convenience and speed of GPT.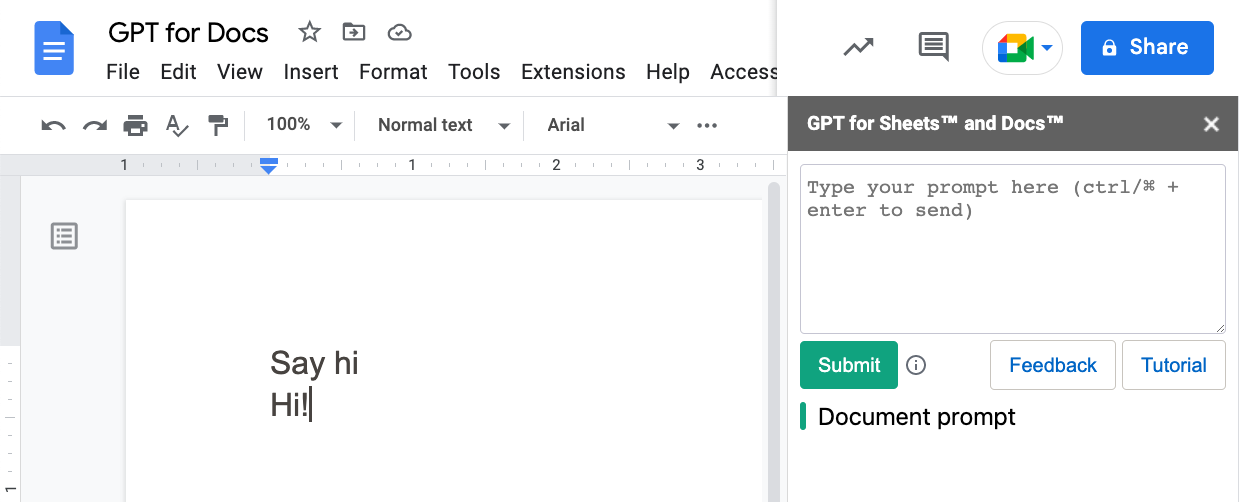 Why use GPT for Docs:
Work on a long document.
Structure your prompts in Google Docs.
Save answers & avoid a ton of copying/pasting.
Benefit from all the Google Docs editor features & ChatGPT.
The add-on powered by ChatGPT is free, with the only cost being the credits from OpenAI. But you only need to pay for the credits if you use them. 
2/ AI Engine – Power of ChatGPT Productivity for WordPress
If you are a niche blogger or content website builder like me, you may wonder how to use the power of ChatGPT to boost productivity in WordPress.
Well, the AI Engine is the answer. It's one of the best ChatGPT WordPress plugins to boost your productivity. Imagine what you could do with your chatbot like ChatGPT. You can offer your website or online store visitors a powerful chatbot.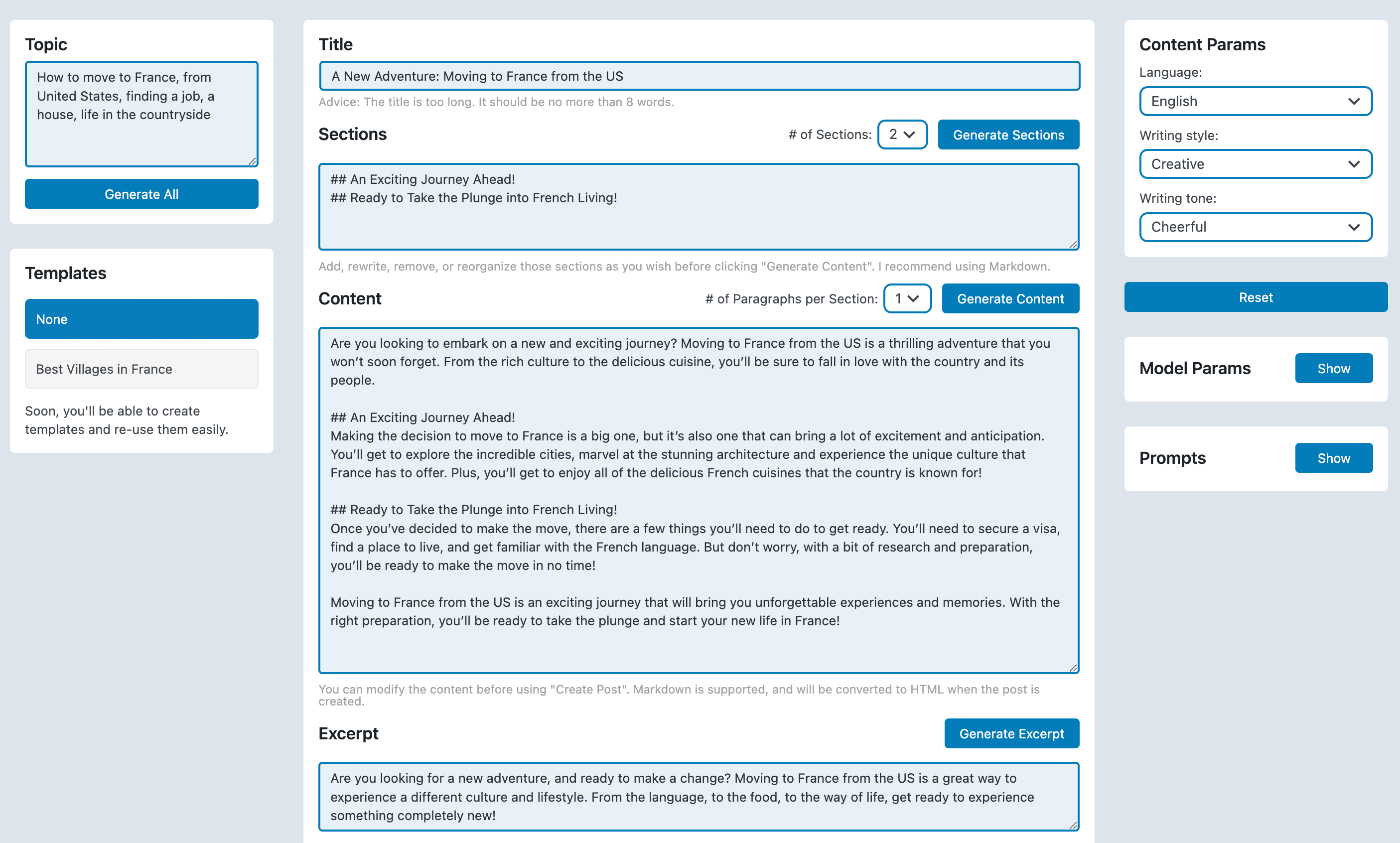 But that's not all! With AI Engine, you can do the following:
Generate AI content with ChatGPT.
Create AI images with Midjourney.
Crafting attention-grabbing titles and excerpts.
Quickly write the WooCommerce product fields.
Brainstorm ideas and write faster than ever.
Convert speech-to-text with Whisper API.
Add textual or image chatbot to your website.
Add more context to your chatbot based on your data.
Create templates to save time and be more productive.
The best part is that AI Engine is free to use; all you require is the credits of the models you want to use. You can use most AI models, like ChatGPT, GPT-3, GPT-3 16k, GPT-4, GPT-4 32k, DaVinci, Babbage, etc.
You can go to AI Engine's official site for tutorials and documentation. 
3/ God in A Box – Use GPT 3.5 for Productivity on Whatsapp
ChatGPT is now at your fingertips with the God in A Box app. You can now experience the power of AI on Whatsapp, where you can chat with an intelligent bot about a wide range of topics.
Generate AI images using the !create command option.
Unleash your creativity and watch your ideas come to life.
Chat with GPT-3.5 directly on Whatsapp.
Whether you need help with wound care, cooking tips, or even deep philosophical discussions, this tool created with the power of GPT 3.5 is guaranteed to increase productivity and save you time.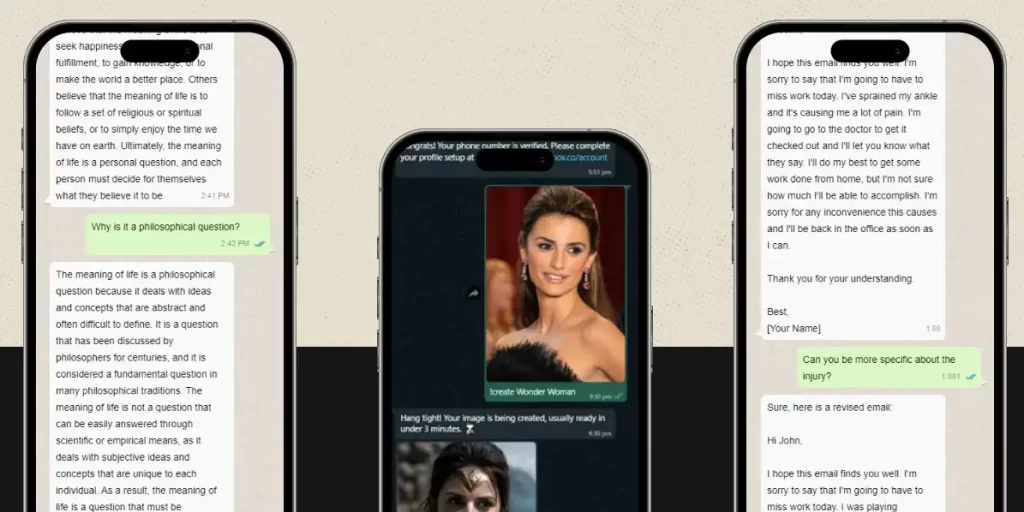 But that's not all. With the latest update, you can unleash your creativity and generate incredible AI images.
God in A Box is one of the best ChatGPT productivity tools that also help you with images. It offers unlimited messaging and 30 image credits per month at an affordable price of just $9/month. 
4/ Merlin AI – Use ChatGPT & GPT-4 on All Websites
Merlin AI is probably the best ChatGPT productivity Chrome Extension because it helps you access the GPT power on any website. You can seamlessly integrate AI into your daily tasks and get more done in less time.
The ChatGPT app for Chrome: Merlin Chat GPT offers various applications to supercharge your productivity, and access advanced ChatGPT capabilities.
Here's what Merlin AI offers to boost productivity.
Access GPT-4 for free.
Compose and reply to emails swiftly.
Chat with Merlin in your preferred language.
Get the latest internet-based data from ChatGPT.
Summarize YouTube videos and lengthy articles.
Post AI-generated posts and comments on social media.
Get ChatGPT responses alongside your Google search queries.
Merlin is the ultimate AI assistant designed to enhance your workflow, whether you're a busy professional, a student, or anyone seeking greater productivity. It's a free, privacy-focused alternative to ChatGPT, Bing AI, or Bard.
5/ ChatGPT Prompt Templates to Increase Productivity
If you want to take your productivity with ChatGPT to the next level, using ChatGPT productivity prompt templates is the way to go. 
You can streamline your work, get consistent quality responses from ChatGPT, and dive into specialized knowledge. And you also get your work done effortlessly.

Taskade is an AI-powered productivity tool that offers tons of such templates.
And the list goes on! These templates offer a simple yet powerful method for maximizing your efficiency and getting the most out of your interactions with ChatGPT.
6/ MindOS – Let the AI Work for You
MindOS revolutionizes personal and professional life by harnessing the potential of AI geniuses. It uses different personas to train the AI models like ChatGPT. You can also create your persona to fit your niche or industry.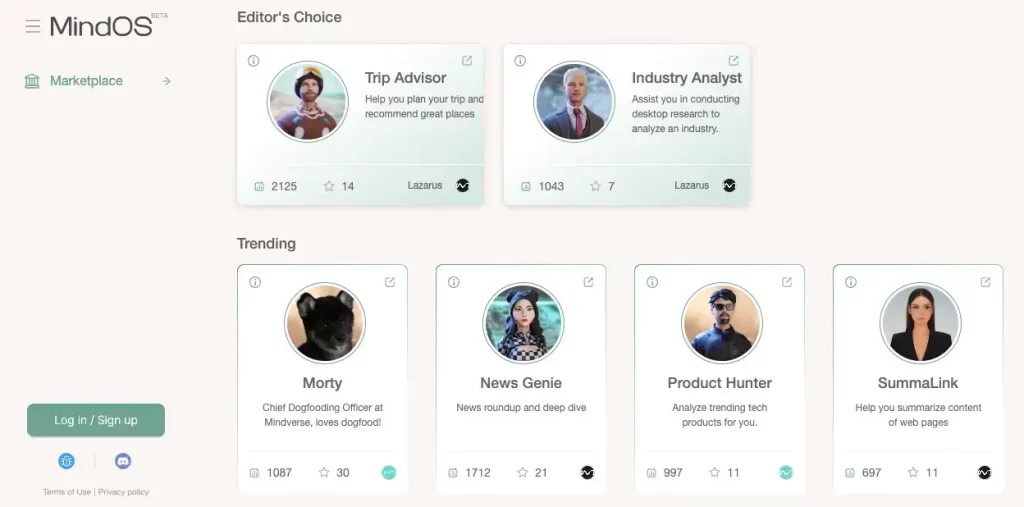 Use these personas for personalized advice from AI experts:
And the list goes on! Tailored to various industries, such as e-commerce, travel, gaming, education, and more, MindOS empowers users to improve customer experiences and skyrocket productivity to new heights.
7/ AI Email Writer Powered with ChatGPT
Email writing assistants are some of the most valuable ChatGPT productivity tools. These intelligent assistants revolutionize how we compose emails, making the process more efficient and effective.
That is how email writers created with ChatGPT help you:
Generate Polished Emails.
Save Time on Composing.
Enhance Clarity and Conciseness.
Personalize Communication.
Improve Grammar and Spelling.
Let me share some of my favorite AI writing assistants powered by ChatGPT.
That's previously called AI Emails, the ChatGPT-powered add-on for Google Workspace. With this ChatGPT productivity tool for Gmail, you can write emails faster than ever, enjoying a safe and secure email environment.
With this free ChatGPT productivity Chrome extension, you can write emails and messages, correct grammatical mistakes, rephrase your words, change your writing tone, summarize text, and much more using ChatGPT AI. It works on all sites!
This ChatGPT writing Chrome extension helps you unlock the full potential of GPT-3.5. Without prompts, it effortlessly generates ideas, blogs, reports, slogans, jokes, and even lyrics.
This versatile tool also offers translation, grammar check, and code repair functions, expanding the possibilities of your writing. With MagickPen, you can boost your writing productivity with ChatGPT in seconds.
MagickPen offers 10 free trial credits per day for users without logging in. To access more credits, you can purchase a Pro or Subscription account.
8/ YouTube & Article Summary powered by ChatGPT
Ever wondered how you can get the key points of a video or an article in a fraction of the time? YouTube & Article Summary powered by ChatGPT is a free Chrome Extension that helps you get summaries of YouTube videos and web articles effortlessly.
Access concise summaries of YouTube videos and web articles.
Save time, and learn more quickly and efficiently.
Watch this video to see what it feels like:
With a simple click, you can view the summary of a video by clicking the dedicated summary button on the thumbnail while browsing YouTube.
8 Best ChatGPT Productivity Apps for iOS & Android
Open AI has recently introduced the ChatGPT app for iOS. The free app has no ads and syncs your history across devices. But some developers have created other apps using the power of ChatGPT to increase your productivity.
Let's discuss them!
9/ ChatGPT Desktop Application
There are many ChatGPT apps for boosting your productivity while using your computer or laptop. You don't need to open any browser like Chrome, Firefox, or Safari. With these apps, your computer is powered by ChatGPT.
Let me share three ChatGPT desktop apps for productivity.
It's a simple app that brings ChatGPT to your macOS menubar to increase your work productivity. With a quick keyboard shortcut (Cmd+Shift+G), you can access ChatGPT from anywhere on your Mac. Just clone the repository on Git Hub and run.
This GitHub application brings the power of ChatGPT to your desktop, compatible with Windows, Linux, and macOS. With various features and functionalities, this app provides a seamless experience for ChatGPT users.
Enjoy the app on Mac, Windows, or Linux.
Listen to the generated text using the Text-to-Speech feature.
Use an updated version of ChatGPT always.
Use ChatGPT through the system tray hover window.
Explore powerful menu items to enhance your productivity.
Perform quick searches by selecting content (up to 400 characters) using the integrated pop-up search feature.
Watch this video for the live demo for the desktop application for ChatGPT:
You can enhance your ChatGPT experience with this ChatGPT Desktop App for Mac and PC on WebCatalog. Enjoy distraction-free windows, manage multiple accounts effortlessly, and organize your apps with Spaces.
Effortlessly manage and switch between multiple accounts.
Organize your apps and accounts into tidy collections using Spaces.
Streamline your ChatGPT workflow & optimize your productivity.
What I don't like about this app is that it forces you to download the Webcatalog app.
10/ Nova App
Nova app is an incredible AI chatbot powered by GPT-3, ChatGPT, and GPT-4. With the Nova app, you can have conversations and get human-like responses that make you feel like you're talking to an intelligent friend.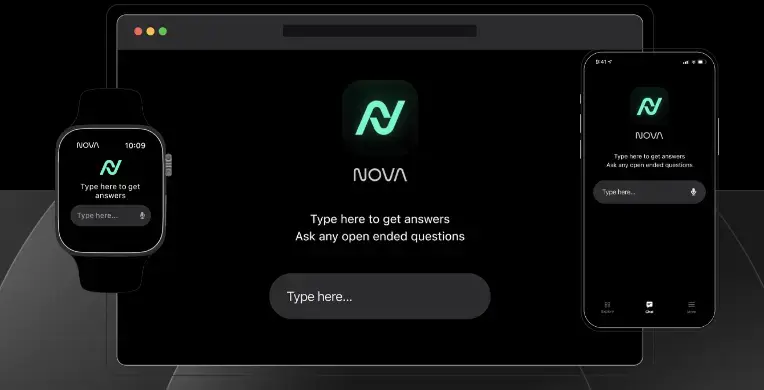 Check out these fantastic features:
Speech-to-text technology.
Supports 140+ languages.
One account, multiple devices.
Generates responses for any query.
The Nova AI chatbot can assist you if you need help finding a movie, seeking book recommendations, or solving math problems. The best part is that you can download it on iOS and Android. 
11/ ChatOn AI Chat Bot Assistant
To boost your productivity, you can now leverage the power of ChatOn AI Chat Bot Assistant, which is driven by advanced ChatGPT and GPT-4 technologies.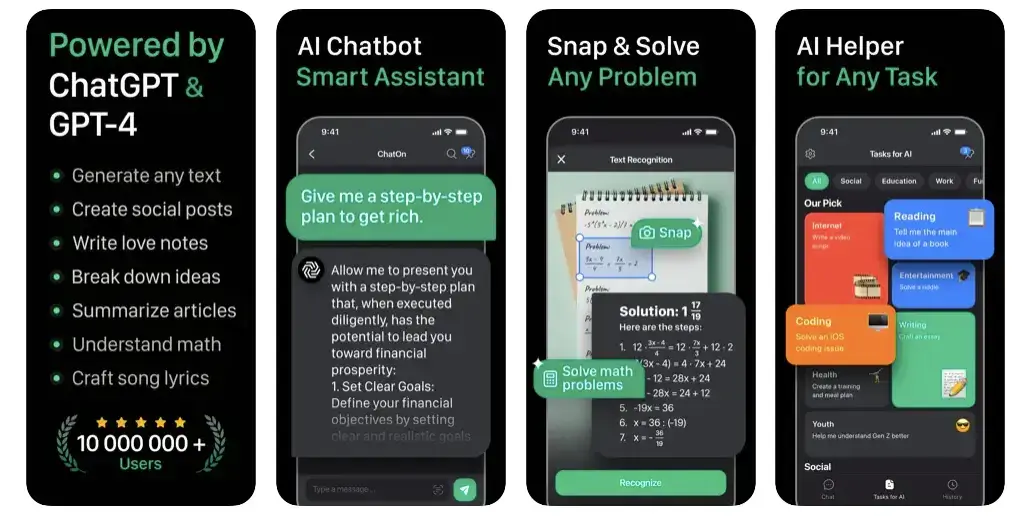 With the app, you can experience a whole new level of human-like interaction as you interact with this intelligent chatbot.
Whether you need assistance crafting speeches for official meetings, searching for captivating phrases, or improving your writing skills, ChatOn has covered you.
12/ Genie
With the power of GPT-3, GPT-4, and ChatGPT, Genie has already attracted over 10 million users worldwide. This AI-powered assistant is one of the best ChatGPT productivity apps developed by AppNation.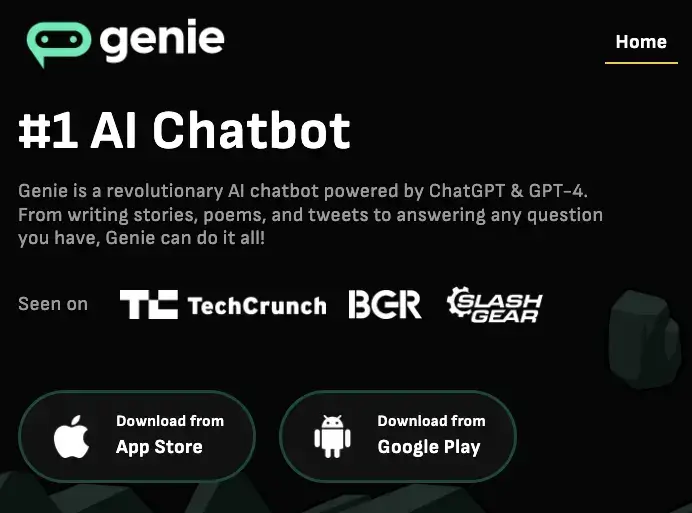 Look at the remarkable features of Genie:
Input photos from the camera.
Get conversation history.
Generate voice responses.
Get insightful answers to any question.
Engage in natural conversations for advice.
Write impressive essays, captivating stories, and more.
This advanced chatbot is designed to revolutionize your interactions, learning experiences, and goal achievements. Genie is your go-to assistant for various purposes, from asking questions to receiving recommendations.
13/ Chatsonic
Chatsonic is yet another ChatGPT alternative with superpowers by its developers. For example, you cannot generate AI images with the ChatGPT version. But with Chatsonic, you can do it all and much more to increase your productivity.
With seamless integration with Google Search, you can create content with the latest information at your fingertips. ChatSonic goes beyond text-based communication by generating visuals, voice commands, and more.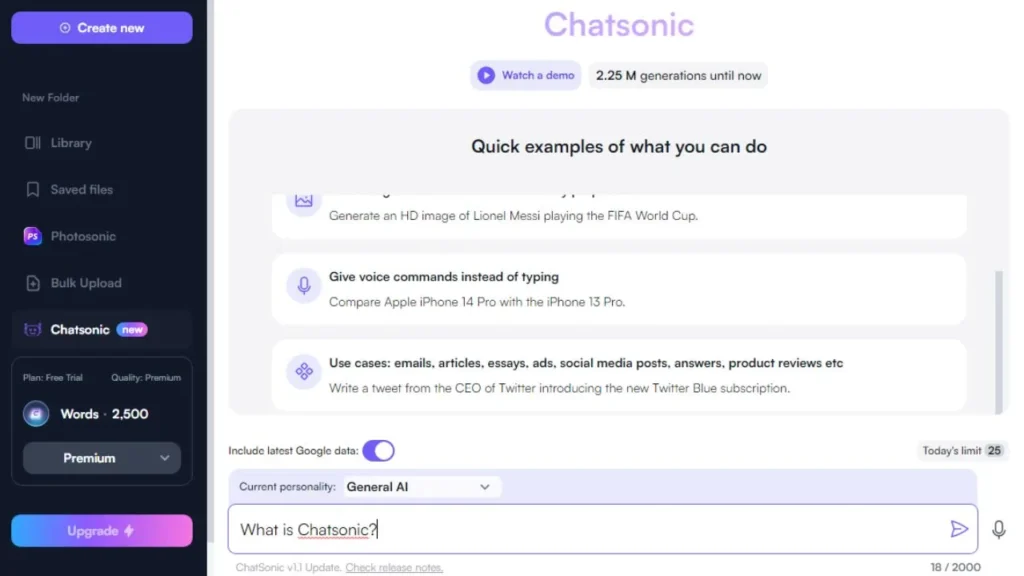 Look at the critical features of ChatSonic:
Simplify communication and enhance productivity.
Integrate with Google Search for up-to-date data.
Generate visuals and voice commands.
Enjoy a more interactive experience.
Yes, ChatSonic can help you enjoy streamlined communication, boosted productivity, and an organized workflow like never before. You can get started for free by generating up to 10,000 words per month, and then you need an upgrade at Writesonic.
14/ Frank AI
The best part about Frank AI assistant is that you can immediately use it with a quick login or sign-up. It's one of the top ChatGPT-alternative productivity tools that help you write, summarize, and generate any text in seconds.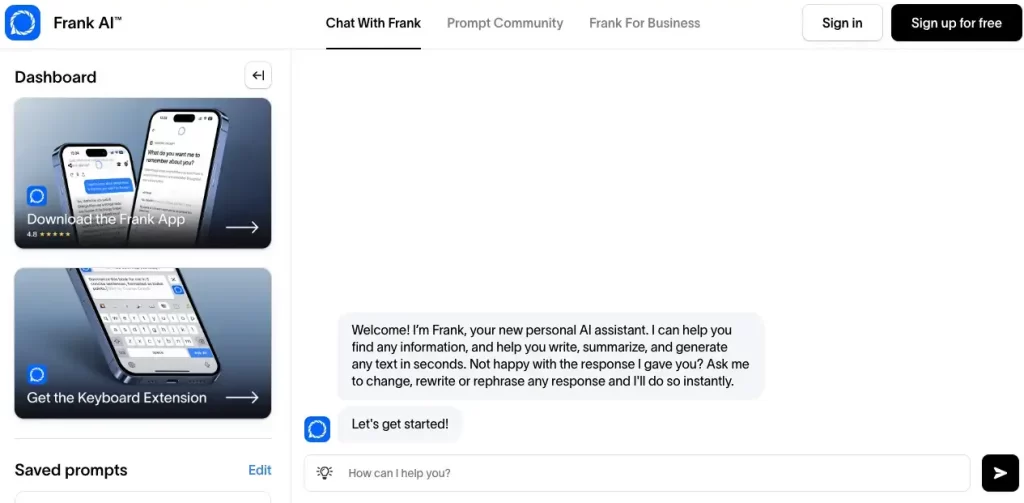 Frank AI has tons of saved AI prompts to help you do a lot of things:
Generate images.
Help with your school exams.
Write work emails faster than ever.
Do the internet search efficiently.
And the list goes on! In fact, the app boasts of a thriving prompt community on Frank's site. For now, you can download the Frank app on App Store. But the developers are in the process of developing an app for Android users as well. 
15/ AI Chatbot: Open Chat AI for iOS
AI Chatbot: Open Chat AI for iOS, formerly AI Smith, is a powerful productivity app powered by ChatGPT and GPT-4 API. It brings advanced AI chat capabilities, voice interaction, and conversational experiences to your fingertips.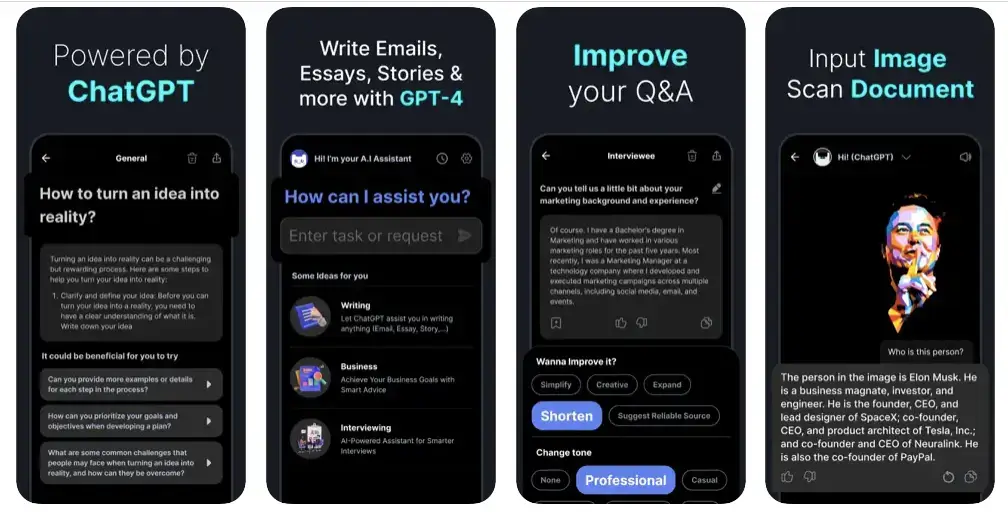 With the iOS AI Chat app, you can access many AI-powered features, including AI-driven search, text completion, and more.
You can do tons of things with this chatbot:
Generate tweets, headlines, emails, essays, and more.
Create poems, songs, and brainstorm ideas.
Improve your grammar with accurate English corrections.
Simplify complex wording into easily understandable concepts.
Create code to interact with powered APIs using NLP.
Translate English text into other languages with ease.
Transform text into programmatic commands for seamless integration.
Make it your JavaScript professor.
Classify sentiment in tweets with a basic prompt.
Generate interview questions for insightful conversations.
Summarize meeting notes for efficient reference.
Create structured outlines for anything.
Generate analogies for effective communication.
Convert product descriptions into compelling ad copy.
Generate unique and catchy product names from example words.
Extract keywords from blocks of text for better understanding.
Create recipes from a list of ingredients (with caution!).
Craft restaurant reviews from a few words.
Access study notes tailored to your chosen topics.
Engage with Marv, the sarcastic yet knowledgeable chatbot.
Transform text descriptions into vibrant colors that represent moods.
Top 5 ChatGPT Alternatives for Increased Productivity
If you want to increase your productivity with ChatGPT, you'd love to try these ChatGPT alternatives to enhance productivity in your work fields.
16/ Notion AI – Ultimate AI Productivity Tool
Notion had already set itself to be a great productivity tool even before the advent of ChatGPT. And with its Notion AI, you can enjoy the limitless power of AI right inside the Notion app to write better, think bigger, and work faster.
That's what they claim! And if you don't believe it, you can jump on this page to learn more about the Notion AI. With it, you can enhance your productivity and boost your creativity in seconds.
Discover how Notion AI can revolutionize your work by automating tasks, generating new content, and transforming text within your connected workspace.
Look at the quick features of Notion AI:
Convert and manipulate text in innovative ways.
Streamline your workflow by automating repetitive tasks.
Generate content directly within Notion using AI.
17/ Phind – AI Search Engine
Phind is an AI search engine for developers that answers your questions instantly. Designed with technical queries in mind, Phind delivers concise explanations and relevant code snippets sourced from the web.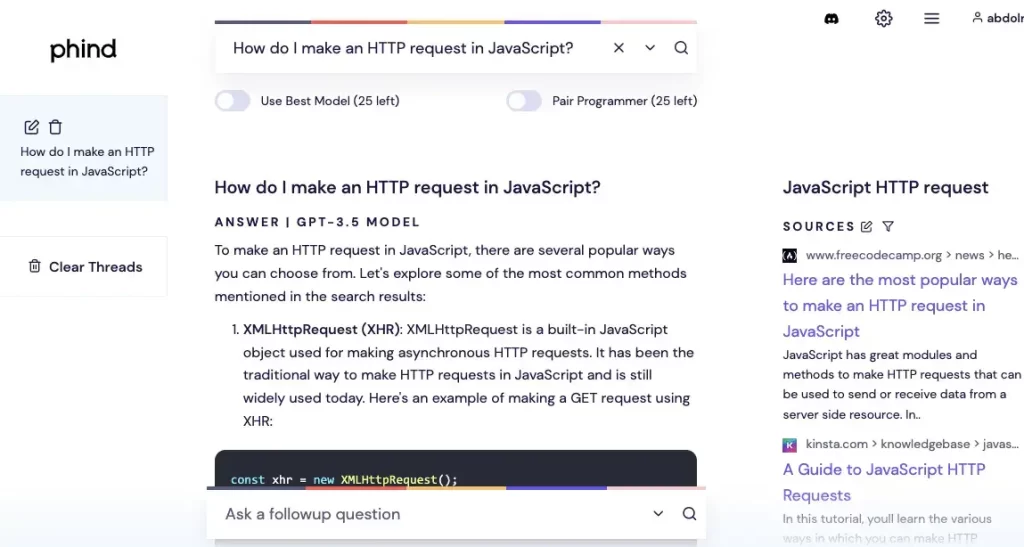 And that's why it's one of the ChatGPT-alternative tools for productivity. Let me quickly talk about its features now. 
Get quick and accurate answers to your queries.
Get information from multiple sources.
Optimize your technical searches with Phind's ability to generate code snippets and explanations.
18/ Perplexity AI – Concise Version of ChatGPT
Perplexity AI is an AI chat tool to increase productivity by acting as a search engine and chatbot simultaneously.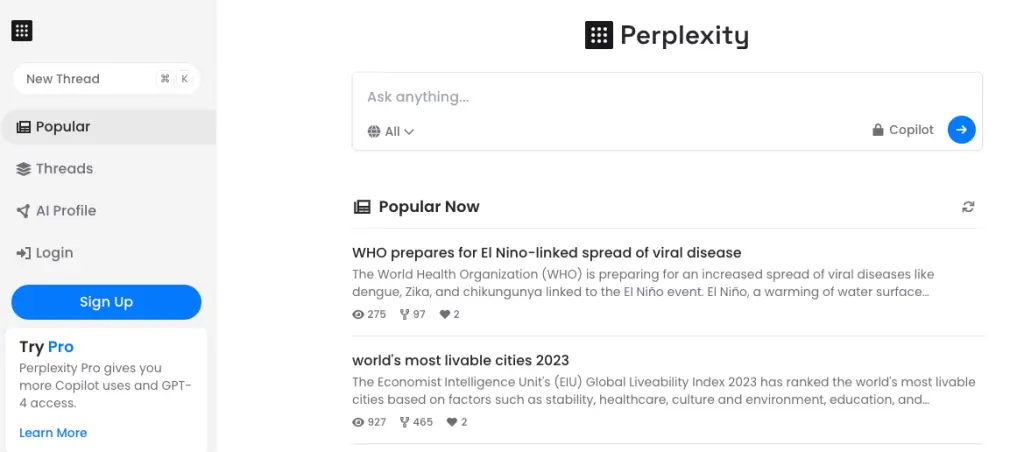 Built using the ChatGPT models (GPT-3 and GPT-4), Perplexity AI offers precise answers by scouring the internet for relevant information. You can try Perplexity Pro for more Copilot uses and GPT 4 access.
Look at the remarkable features of Perplexity AI:
Find accurate and detailed answers to your questions.
Search the web in conversational interactions.
Ensure comprehensive and accurate responses.
19/ Superhuman – Business Productivity Tool for Email
Superhuman AI claims to offer the fastest email experience ever. Designed for teams using Gmail or Outlook, Superhuman AI enables you to compose emails effortlessly and at lightning speed.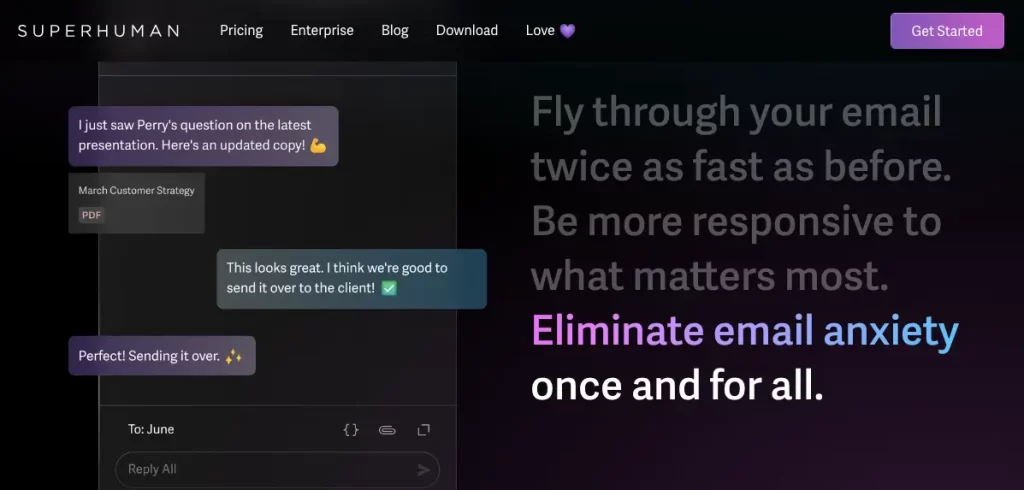 Provide a few phrases, and Superhuman AI will transform them into full emails that reflect your voice and tone.
These are a few reasons why you should use Superhuman AI:
Write everything fast in your voice and tone.
Eliminate writer's block when writing emails.
Boost your efficiency and productivity with AI.
20/ Snipd – AI Podcast Learning Tool
Snipd is an AI-powered podcast player that lets you discover, save, and share highlights from your favorite podcasts. With Snipd, you can automatically transcribe episodes, create chapters, and explore the most highlighted moments listeners share.
These reasons make Snipd one of the best ChatGPT-alternative productivity tools for podcasts:
Transcribes podcast episodes with more than 90% accuracy.
Generates chapters with titles and summaries.
Create shareable clips from podcasts.
Explore the most highlighted moments in podcasts using Snipd's AI-powered global search for podcast moments.
FAQs for Productivity Tools & Apps Created With ChatGPT
Let me answer a few questions about apps and tools created with the data power of Open AI's ChatGPT.
What are the best ChatGPT extensions for Chrome?
The best ChatGPT extensions for Chrome include AIPRM for ChatGPT for content entrepreneurs, Scribe GPT for saving and sharing your ChatGPT chat, YouTube Summary by Glasp, Prometheus for chatting with ChatGPT in your voice, and more.
Does ChatGPT have a dedicated app?
Yes, Open AI introduced an iOS ChatGPT app, which is free to use and syncs with the history across your devices. Other than that, ChatGPT has yet to have a dedicated app for Android as of now. But you can use it anywhere with a browser.
Other apps you see nowadays are the ones that ChatGPT or any different AI language model powers.
Is ChatGPT good for productivity?
Yes, ChatGPT is good for productivity because it can assist with tasks such as summarizing content, generating ideas, providing quick answers, and aiding in research, all of which contribute to increased efficiency and productivity.
How does ChatGPT increase productivity?
ChatGPT increases productivity by saving time on tasks that require information retrieval, content generation, and research. It offers quick and accurate responses, automates specific processes, and aids in decision-making, allowing you to focus on other essential aspects of your work.
What are the tools used in ChatGPT?
ChatGPT uses advanced AI models like GPT-3 and GPT-4 trained by Open AI, which enable it to deliver powerful conversational capabilities. These models leverage extensive training data to effectively understand and respond to user queries.
Is ChatGPT a productivity tool?
While ChatGPT is not primarily designed as a dedicated productivity tool, it can significantly enhance productivity by helping you with various tasks, improving information access, and streamlining workflows.
Its versatile nature makes it a valuable tool for boosting overall productivity. Furthermore, there are many ChatGPT productivity tools, apps, and extensions that the GPT model powers.