With the right tools and guidance, you can become a successful DIY blogger and make money from your passion. In this post, you'll learn how to start a DIY blog.
So get ready to create the next big DIY blog because now is the perfect time to start your journey as a content creator.
1/ Choose Your DIY Blog Niche
Choosing a niche for your DIY blog is one of the most important steps in creating a successful blog.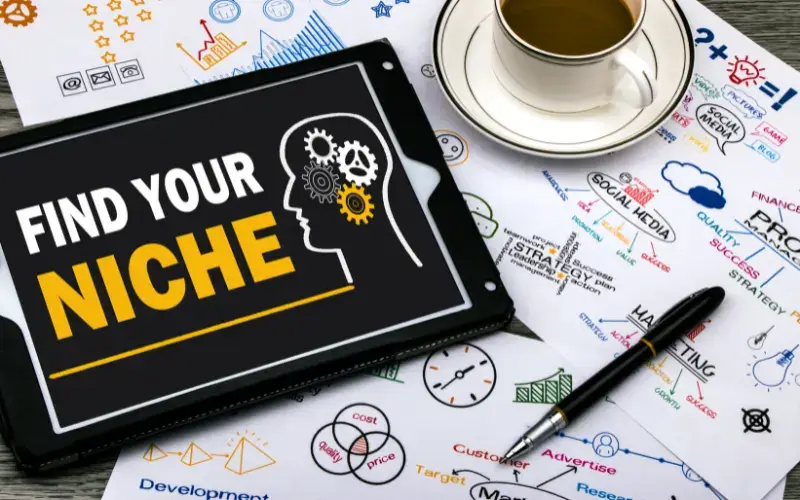 It's important to pick something you are passionate about and know about. This way, you can create content that will attract readers and keep them engaged.
Once you've narrowed your choices to a few potential niches, do further research to ensure that the topic has enough room for growth.
With the right niche, your DIY blog will have the foundation to succeed!
Here Are a Few DIY Blog Ideas
Let me give you a few ideas to get you started.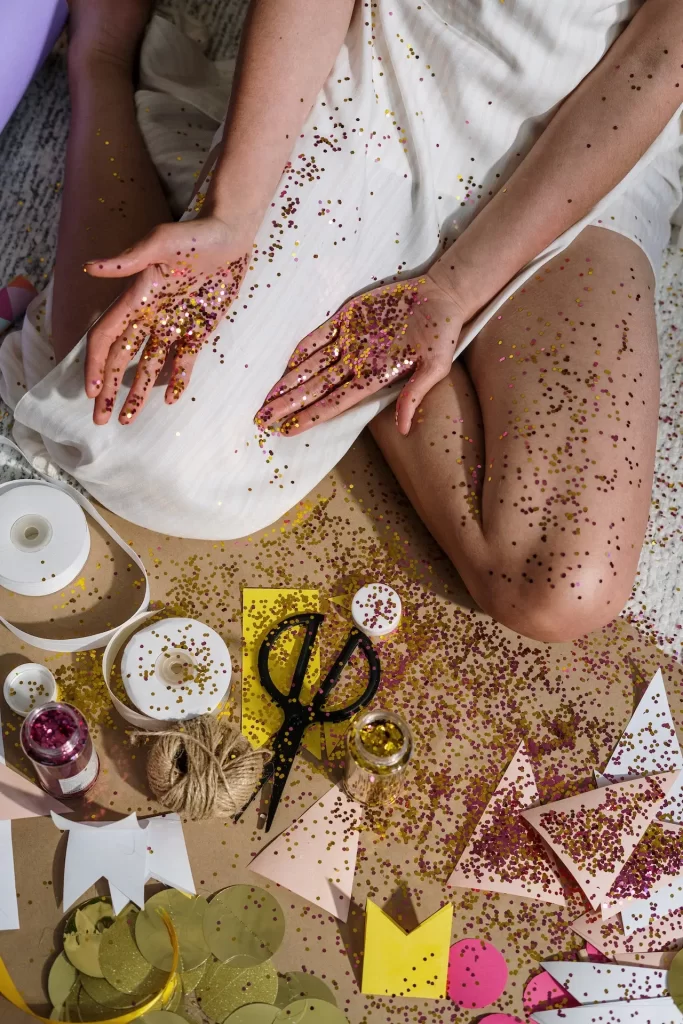 DIY Home Decor
DIY Furniture Projects
Recipes for Homemade Food
Budget Gardening & Landscaping
Interior Design Tips and Ideas
Woodworking Projects
Crafting Ideas and Tutorials
Handmade Jewelry Projects
Natural Beauty Recipes and Tutorials
Thrifting Guide and Tips
Upcycled Clothing Ideas
Home Improvement Projects
Home Organization Hacks
Plant Care Guides and Tips
Kombucha Brewing Tutorials
Scrapbooking Ideas
Essential Oil Blending Tutorials
Allergy-Free Cooking Tips and Recipes
DIY Sewing Projects for Beginners
Building Your Aquarium Guide
Crochet Patterns for Beginners
Candle-Making Techniques and Recipes
Outdoor Living Space Design Ideas
Emergency Preparedness for Families
Christmas DIY Crafts for Kids
As you can see, the possibilities are endless!
2/ Niche It Down for a Successful DIY Blog
Yes, there are a lot of niches out there. And by now, you must have chosen the one for you.
But to make a successful DIY blog, you must niche it down even further.
For example, if you choose the "DIY Home Decor" niche, you could narrow it down to "Vintage Farmhouse Style DIY Projects" or "DIY Wall Art Ideas."
The more specific, the better. This way, readers will be able to immediately recognize that your blog is a great source of information related to their search.
But don't narrow down too much, or else you'll run out of content ideas for your DIY blog.
Here Are a Few DIY Blog Examples for Inspiration
By looking at these DIY bloggers, you can understand how to do something similar differently.
Researching your competitors is key to ensuring that you stand out from the crowd!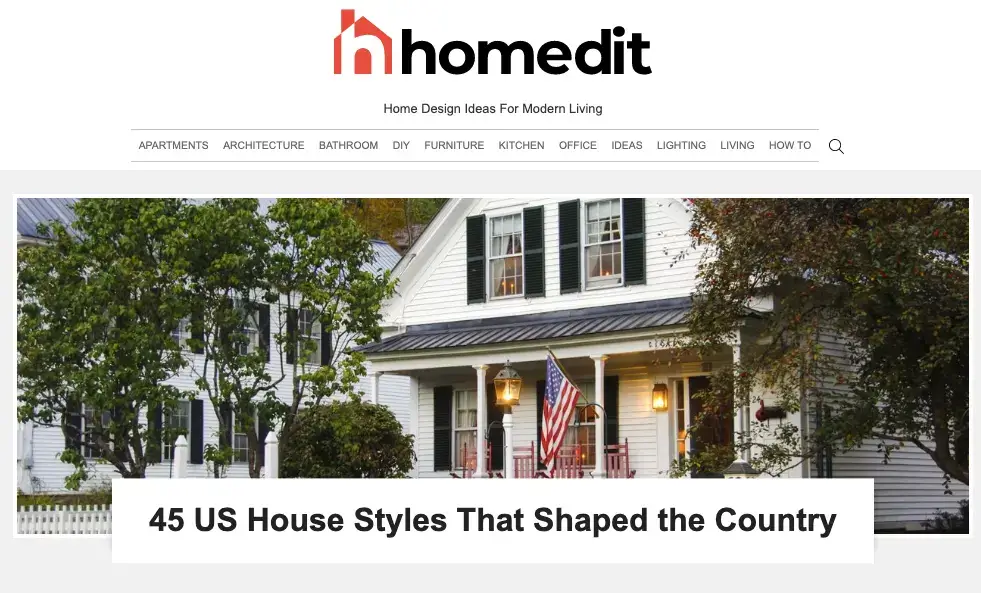 And there are tons of more DIY blogs you can get inspiration from.
4/ Set Up the Technicals of Your DIY Blog
Once you've decided on a niche, it's time to set up the technical side of your DIY blog.
This includes getting a domain name, hosting service, and setting up WordPress because this guide is about making a self-hosted DIY blog.
a) Get a Domain Name
A domain name is the address of your blog followed by an extension, such as .com, .net, .diy, and more. It's how people will find you online. When choosing a domain name, ensure it's easy to remember and relevant to your niche.
You can get a .diy domain name extension because it's a DIY blog, but I recommend buying a .com domain regardless of your blog's niche.

You can choose to generate ideas with this domain generator or Dynadot.
b) Buy the Best Hosting Service
Hosting is where you store all your blog content, like images, posts, etc. Even if you manage all your content using WordPress, you need a hosting service.
For DIY bloggers, I recommend Bluehost or Hostinger.
c) Add the Domain to Your Hosting Service
It seems a daunting task, but it isn't! Many hosting services offer an easy way to add your domain name with a few clicks.
You can ask for their support and follow their instructions.
But here's how to do it:
You may have done this while creating your hosting account.
I also recommend installing an SSL certificate. Don't worry; it's easy.
And that's just it! Now you can wait a bit to install WordPress to manage your content.
d) Set Up WordPress to Manage Your DIY Blog
WordPress is the most popular blogging platform and is free to use. It has many features make it easy to start a blog from scratch. Installing WordPress is pretty easy – all you need to do is follow the instructions provided by your hosting.
Or do this:
You can start writing posts and adding images or other media to create content for your DIY blog.
But wait, let's learn how to stylize your DIY website.
e) Choose the Best DIY Blog Theme
By now, you must have set up a DIY blog. But the look and feel of your content are just as important as its quality.
Start by selecting the best theme for your DIY blog. WordPress has many free and paid themes available in its library.
Some are suitable for DIY blogs, while others are not.
So let me recommend you the best DIY WordPress themes for you: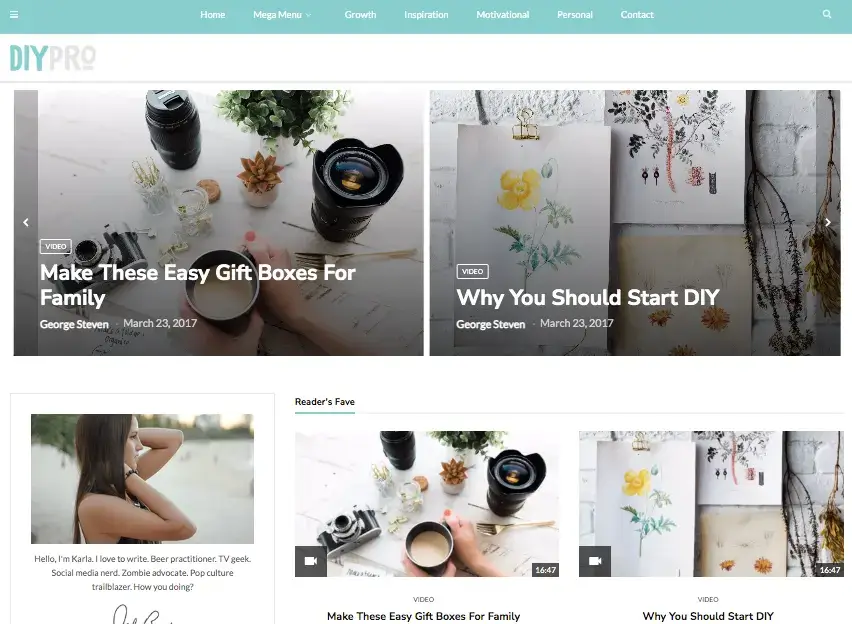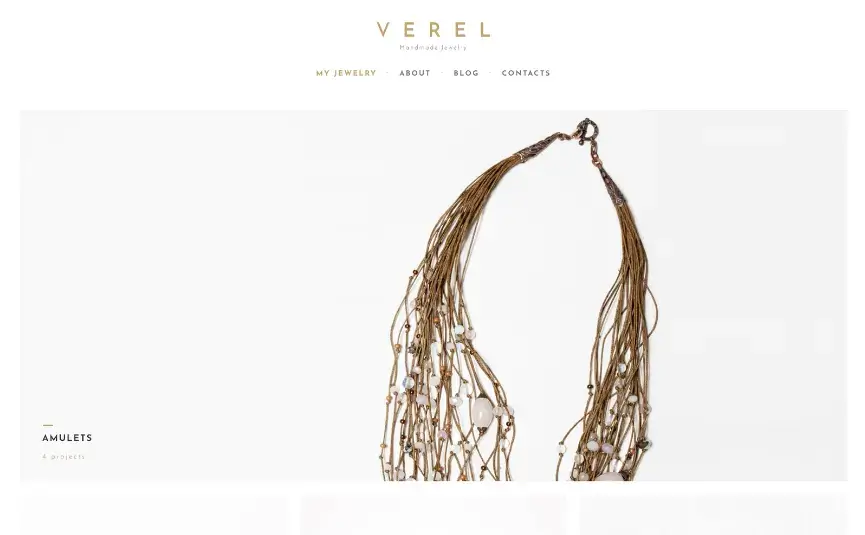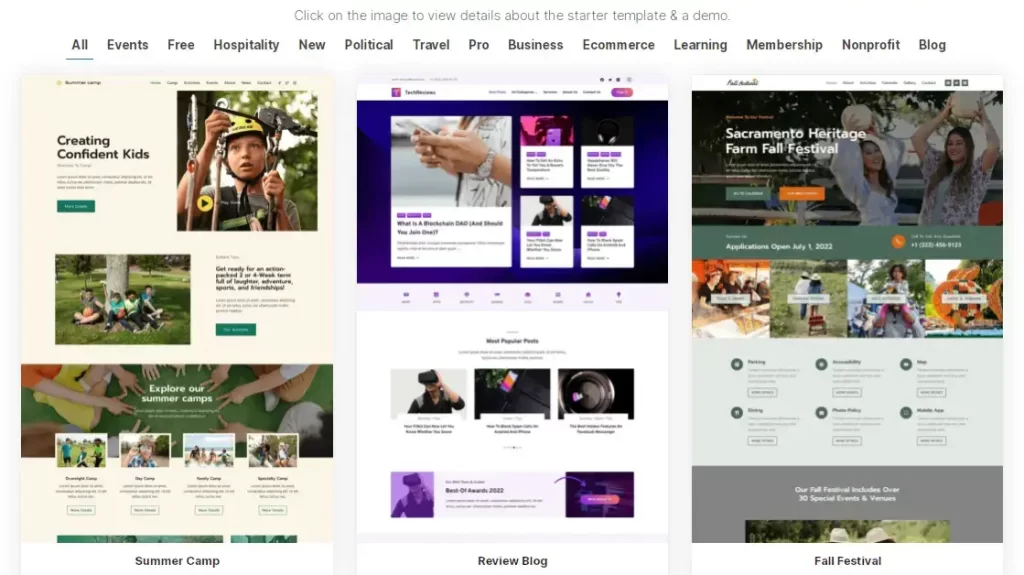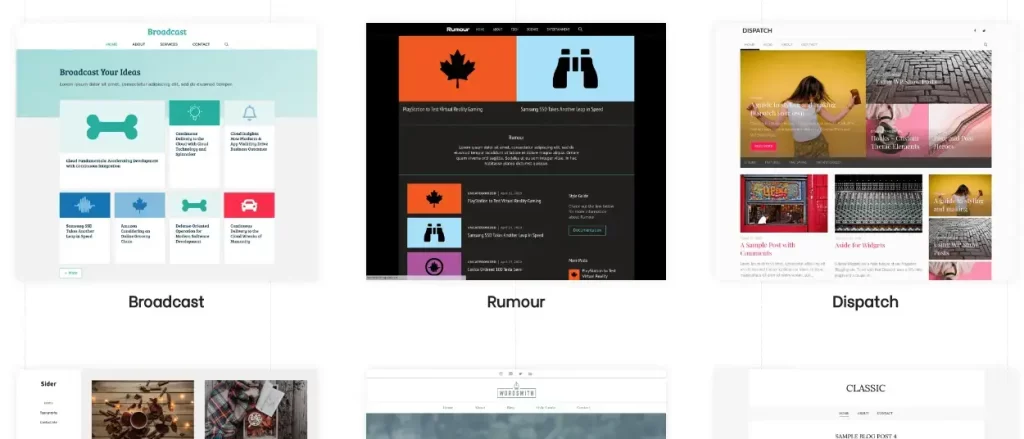 5/ Create Basic Pages for Your DIY Website Blog
Now that you've set up the technical side of your blog, it's time to start creating content.
Start by setting up the most important pages of your website or blog, such as:
About.
Contact.
Privacy Policy.
Terms & Conditions.
Affiliate Disclosure.
Adding these web pages to your site is essential if you're looking to create a memorable, authentic brand presence. Also, these pages add to your Google's EEAT, which is a ranking factor on the search engine.
Here's how to add pages to your blog: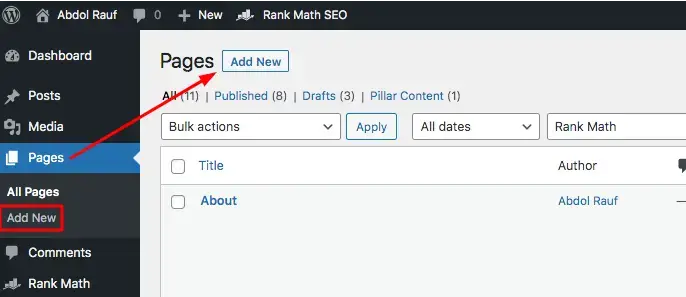 6/ Get to Know Words People Use to Find DIYs
This step is called topic or keyword research if you know a little about niche blogging.
Keywords are words or phrases people use to search for information on the internet.
Knowing what keywords your potential audience uses to find DIYs can help you create content that will be easy to find.
There are many tools you can use to do keyword research.
These are the best ones:
Using the auto-suggest feature is easy; you only need to enter a keyword into the platform and hit the space bar!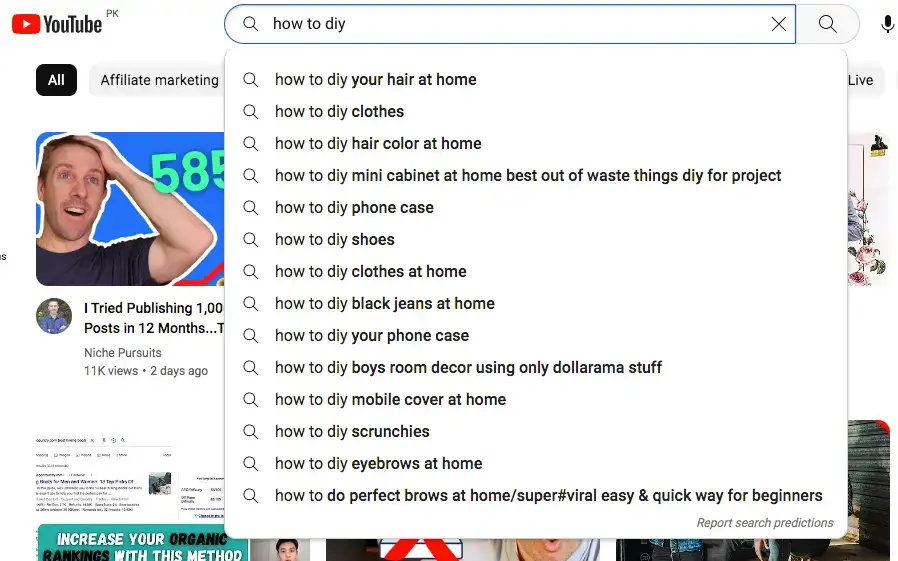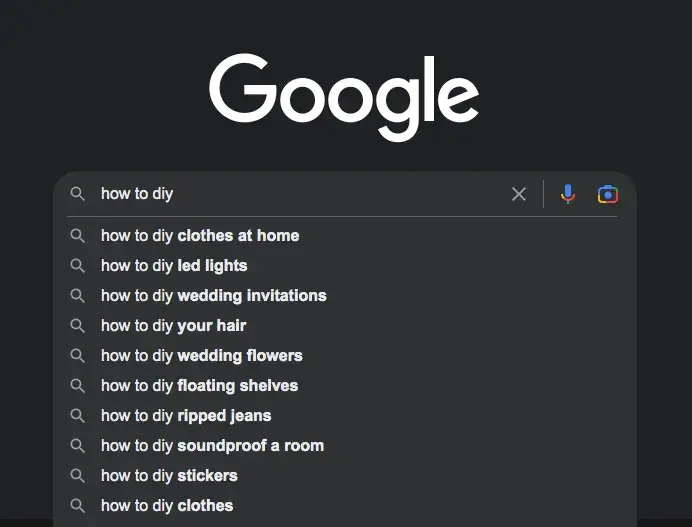 Using these tools is straightforward. All you need is to enter the seed keyword, such as "DIY home," and filter the results with metrics like KD (Keyword difficulty), SV (Search volume), and more.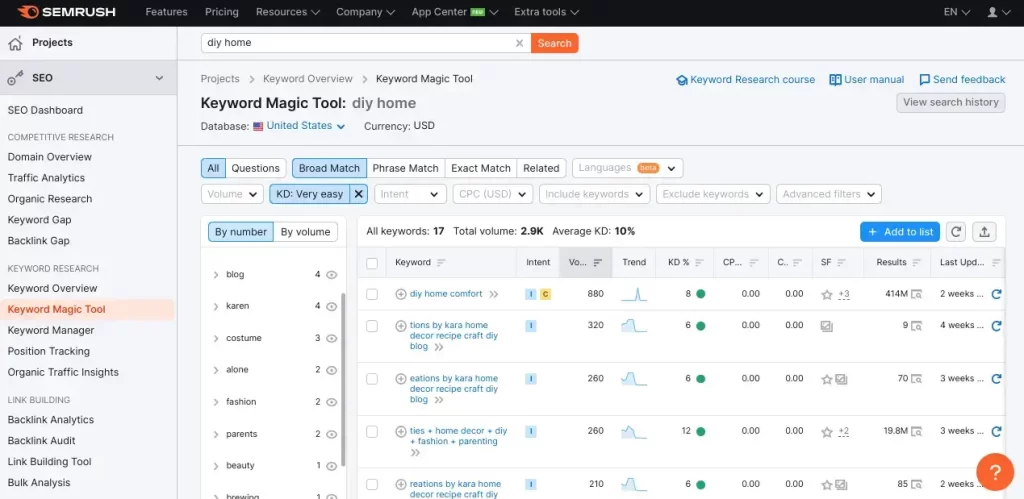 With premium keyword research tools like SEMRush or Ahrefs, you can enter a general keyword like "how to" and include or exclude another keyword or keywords like "DIY, furniture, home, the project," and more. 
Again, all these tools are usually great for a self-hosted DIY blog on WordPress. You might want to use TubeBuddy or vidIQ for YouTube keyword research.
7/ Categorize Your DIY Blog
Lots of bloggers skip this step and start writing away, eventually leading to a confusing blog.
Before creating content for your DIY blog, take the time to create categories.
These main themes will appear in menus or sidebars on your blog. You can also create sub-categories under each category.
Categories are usually based on the types or intent of keywords you have collected earlier.
For example, if your niche is "Vintage Farmhouse Style DIY Projects," then some of your categories can be:
Vintage farmhouse furniture.
Vintage farmhouse decor.
DIY ideas for vintage farmhouses.
Let's take another example from a general DIY blog, HomedIt.
It has these categories:
Creating and organizing the structure, you will have an easier time knowing what to write about next. And more importantly, your readers will find it easy to search through all the content.
And even more importantly, search engines like Googe will find the content easily.
8/ Create a Logo & Add It to the Header
The good news is that you don't need to be a professional designer to create a logo for your DIY blog. You can use tools like Canva to create a logo and images.
Here's how to do it:
Go to Canva.
Sign up for a free account.
Search for a logo template.
Edit and download it with transparent background.
You can upgrade to Canva Pro for more features, but the free version should be enough. Once you have created the logo, add it to your blog's header.
A logo will give a professional look to your DIY blog and also help build brand recognition over time.
But don't overthink the logo. Focus on creating content your readers will love first and worry about the logo later.
9/ Start Creating Blog Posts
Now that you have a blog and a lot of topics start creating blog posts for your DIY blog.
Start with the topics that have high search volume and low keyword difficulty, as this will help you start ranking in Google quickly.
Ensure that each post is written to answer at least one question related to the topic.
A good starting point would be a list-type of articles, like "100 DIY Projects You Can Do at Home" or "10 Easy Steps to Start a DIY Blog".
Also, start building an email list from day one. This will help you build relationships with your readers and turn them into loyal followers.
These are the top email marketing software I recommend:
Convertkit
ConstantContact
And Sendinblue
Lastly, don't forget to promote each post on social media. You can start with Facebook, Twitter, Pinterest, or Instagram.
10/ Promote Your DIY Blog
There are many ways to promote your DIY blog. Here are some of the top ones:
Guest blogging on other blogs in your DIY niche.
Paid advertising with Google Ads and Facebook Ads.
Creating portrait content for TikTok, Shorts, and Stories.
Promoting your blog posts via influencers in your niche.
Answer relevant questions on Quora.
Engage with relevant people on Reddit.
Publish short posts on Medium.
And the list goes on! But most importantly, you need to optimize your DIY blog posts for search engines like Google.
Follow these best SEO practices, and you're good to go.
Include the main topic in your title.
Add it in the subheadings if that makes sense.
And distribute it across the blog content.
Include relevant terms and keywords naturally.
Research the posts that are already ranking for the topic.
Offer something better, different, and unique.
Use relevant alt tags to your images for SEO.
Add internal and external links in the post.
Write a meta description with a call to action.
Update old posts if needed.
And to remind you of all these things, you can use RankMath or Yoast SEO plugin.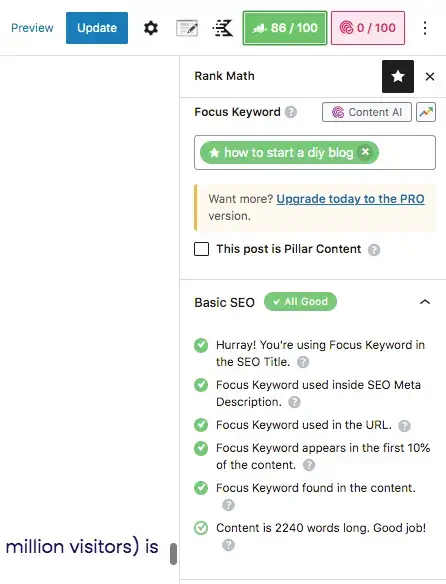 Follow these steps and start your DIY blog today. You won't regret it! Happy blogging.
11/ Make Money With Your DIY Blog
The rule of making money with any blog is simple; create more helpful content!
For example, a blog post, on average, brings in 250-500 pageviews per month organically.
If you have 100 posts, you can get 25,000-50,000 pageviews per month.
And you can make around $250-$500 per month with display ads if the ePMV (earnings per million visitors) is around $10.
Go for Ezoic if you want to make money with display ads.
And then, you can combine it with affiliate marketing. It's a type of marketing where you refer your readers to products or services that can help them with their DIY projects, and in exchange, you get a commission.
And for that, join the best DIY affiliate programs to start making money.
You don't need to start with affiliate marketing right away. But once you start getting some traction with your blog, start looking into it.
Product reviews and tutorials are some of the best ways to start affiliate marketing on your DIY blog.
In addition to that, start offering services related to DIY topics. Or you can sell a course or any other info products.
And you can also make money with sponsored posts. These are the posts where a brand pays you to write about its product or service.
If you use all these methods, you can make between $500-$1500 per month with your DIY blog if it gets 50,000 pageviews per month.
So start creating more content, building relationships with your readers, and making money with your DIY blog!
Resource List: How to Start a DIY Blog and Make Money
Good luck!