PCP Marketing, not to be confused with PPC marketing, is a holistic marketing strategy that focuses on promoting a website, business, or company. That is why PCP stands for Proper Company Promotion, and it has evolved from just building genuine backlinks.
I have tried PCP marketing for one of my projects. And honestly, it's challenging to focus on many channels and strategies to promote your business. In this post, I will help you answer questions like. "What is PCP Marketing," "How to implement it," and more. 
Also, you will dive deep into PCP marketing for websites and how it can help you achieve better rankings on search engines like Google. 
Sounds exciting? Let's start. 
What is PCP Marketing, aka Proper Company Promotion?
PCP Marketing, or Proper Company Promotion Marketing, is a strategy to promote a company, products, websites, or services online. It prioritizes quality over quantity. 
The goal of the PCP campaign is to:
Establish an online presence.
Attract potential customers.
And convert them into loyal patrons. 
Although PCP Marketing in digital marketing may require significant time and effort, it doesn't have to be expensive. It is a more labor-intensive and time-consuming approach than traditional SEO, but its long-term benefits and value make the effort worthwhile.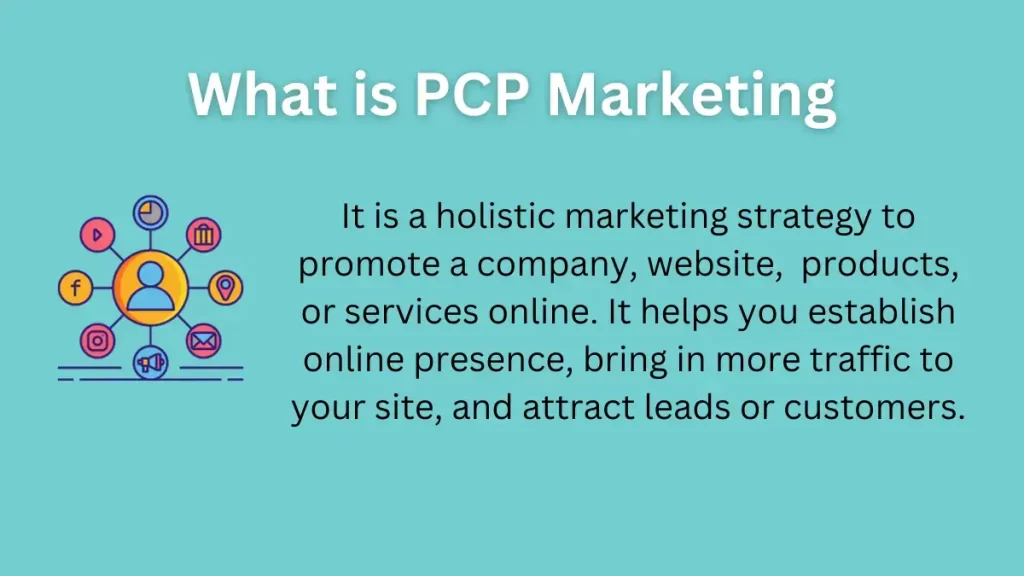 PCP Marketing for SEO Websites & Niche Blogs 
PCP Marketing for websites and blogs involves:
Creating high-quality content.
Optimizing on-page factors.
Building genuine backlinks.
Getting brand mentions.
Other online exposures.
The goal of PCP marketing for a website is to:
Increase website traffic.
Improve search engine rankings.
And ultimately drive more conversions and revenue.
But how does PCP marketing work?
Well, it is done by creating high-quality content that is valuable, informational, and compelling to readers. When content is good enough, it will naturally attract backlinks from other websites and drive organic traffic from search engines.
"I'm already creating high-quality content. What is new?"
Creating incredible, helpful content is just the first step in proper company promotion. You also need to attract a lot of eyeballs to your content so people keep returning for more. You must promote your content and website through different online and offline channels. 
Earlier, "Proper Company Promotion" only means acquiring links and generating traffic genuinely. But the game has changed with the recent algorithm updates by search engines like Google. So, I believe it is more of a holistic SEO approach than a quality link-building strategy. 
But why go for PCP marketing in the first place?
Benefits of PCP Marketing
PCP Marketing is an effective strategy to enhance your website's search engine ranking, attract visitors, and generate leads. It requires time and effort but can bring rewarding results for your business.
Improved search engine ranking: High-quality backlinks boost website visibility in search engine results, attracting more potential visitors interested in relevant content.
Increased organic traffic: Organic traffic comes from search engines, not advertising. A higher SERP ranking attracts more organic traffic.
More qualified leads: Backlinks and organic traffic can attract qualified leads. Visitors searching for related information are likelier to be interested in the website's offers.
Boosted brand value:  PCP Marketing also helps establish the brand's online presence, increasing its value and credibility.
Long-term benefits: Unlike paid advertising, proper company promotion has long-lasting results. Your website can continue to attract traffic and generate leads even after your marketing campaign ends.
Is PCP Marketing the New SEO?
In recent years, SEO (Search Engine Optimization) has undergone a significant transformation. Proper Company Promotion (PCP) has emerged as the new way forward. Unlike traditional SEO, PCP focuses on earning links and traffic rather than creating them artificially.
And it also considers other factors that search engines, like Google, consider when ranking websites. These include user experience, social media presence, and more.
So, is PCP marketing the new SEO? Well, not entirely. Traditional SEO techniques are still relevant and necessary for a successful online presence. But, using PCP strategies in your overall marketing plan can take your website to the next level.
With updates like Panda and Penguin, traditional SEO practices have evolved. Backlinks now need to be genuine and earned rather than made manually. 
Best Digital PCP Marketing Strategies
Now that you know what PCP marketing is and its benefits, let's dive into some of the best digital strategies you can use to implement it.
1/ Create Helpful Content for Your Audience
One way to promote your business effectively is by creating valuable, informative, and engaging content that resonates with your target audience. High-quality content acts as a magnet, attracting readers, backlinks, and organic traffic. 
This is a fundamental principle of Proper Company Promotion (PCP) Marketing. Content can be in various forms and formats, like blog posts, articles, videos, and infographics. The goal is to connect with your target audience genuinely.
Consistency in high-quality content is vital. Trust and authority are built in your niche when your audience consistently finds valuable and informative content. This trust leads to increased engagement, sharing, and customer loyalty.
Creating compelling content is vital to PCP Marketing. It attracts backlinks and organic traffic and builds trust and authority for long-term success in your industry.
Follow these tips to create content that drives traffic and builds authority:
Targeted Keywords: Include relevant keywords in your content to help search engines and human beings understand the focus.
Latest Semantic Indexing (LSI): Instead of keyword stuffing, prioritize LSI keywords. Google now favors popular search terms, and LSI allows multiple variations of your target keywords.
Audience-Centric Content: Craft content with your audience in mind. Put yourself in their shoes and ask if it's valuable, helpful, or thought-provoking for them.
Multi-Platform Approach: Expand. Your reach by creating diverse content across multiple platforms. Boost your website's authority, climb search engine rankings, and convert prospects into customers.
2/ Host or Sponsor an Event
Sponsoring an event is a valuable way to promote your online business. The size of the event can be tailored to your budget. You can provide awards or support events like a kids' football league with equipment. 
You can also involve local newspapers and issue a press release explaining your involvement and the benefits to the recipients. Ensure that websites associated with the sponsored event feature content about your business and link back to your site. 
The press release will also generate genuine links that pass traffic, which search engines like Google favor. The buzz created will enhance your company's brand, increasing exposure and more website traffic.
3/ Offer Guest Posts to Relevant Blogs
Guest posting on blogs related to your business niche is an effective strategy. Many blog owners seek high-quality and informative content. Blog posts still carry weight only if they are genuinely valuable to readers.
Guest posting on high-authority blogs earns your website links, increasing your domain authority. The higher the domain authority, the better it is for ranking high in search engine results pages (SERPs). It also brings in the eyeballs you need. 
4/ Go for Online Advertising
Advertising remains a great method for driving traffic and increasing visibility for your business, products, or services. You can place banner adverts on forums and blogs relevant to your business niche. 
Consider adding a blog post to the sites where you advertise, as they value you as a customer. When placing advert links, make them "no follow" to signal to search engines like Google that you're not merely buying links. 
5/ Take Advantage of Local Listings
Register your business with Google through Google My Business. It's like the new-age Yellow Pages, allowing potential customers to find your location and operating hours easily. 
Plus, customers can post reviews of your business, boosting your online presence and offering free advertising. 
But dont limit yourself to Google My Business. Submit your business information to other local directories such as Yelp, Bing Places, Yahoo! Local, and other niche-relevant directories and listings. 
6/ Use Social Media to Promote Your Company
Social media has become a business necessity. It's a cost-effective way to inform, attract, and engage with your audience. Setting up a business account on most social media platforms is free. 
While creating paid posts and social media ads requires an investment, the initial setup is budget-friendly. But don't just promote your products or services on social media. Share valuable content, interact with followers, and offer customer service via these channels.
7/ Optimize Your Website for Search Engines
Search Engine Optimization (SEO) is crucial for improving your website's search engine rankings. Incorporating relevant keywords in web pages and blog posts enhances the chances of users finding your site in online searches.
SEO involves more than keywords, so consider researching or hiring an SEO agency for optimization.
8/ Create Press Releases for Your Online Business
Whenever your business accomplishes something noteworthy, draft a press release to local news outlets. These publications often use press releases to create articles, granting your business free publicity and broader reach.
9/ Get Involved in Your Niche Community
Join industry-specific online communities and actively participate in conversations. Contribute by posting comments on relevant blogs and offering to write guest posts. This expands your network and enhances your credibility in the field.
You can also join Facebook groups to engage with potential customers, answer questions, and promote your business. These efforts can lead to collaborations, partnerships, and future customers.
10/ Use High-Quality Visuals to Promote Your Biz
Visual content is crucial. Invest in high-quality visuals for your website and social media. Users often rely on images to decide which posts to engage with.
Include photos or videos of your products, services, facilities, or staff to make your content more appealing.
11/ Host a Workshop or Webinar
Teaching and sharing expertise can establish you as an authority in your field. Hosting workshops and webinars, whether online or in person, is particularly beneficial for specialized skills.
Provide valuable insights, build trust, and create industry connections. Collect contact info to nurture leads.
12/ Offer Discounts or Freebies
Introducing discounts and free trials can attract new customers by providing incentives for their interest. Consider encouraging referrals by offering existing customers deals that they can share with others. 
Free samples and trials allow prospective customers to experience your product or service without a financial commitment. This approach builds trust and allows the quality of your offerings to speak for itself.
More PCP Marketing Tips for Backlinks
It's essential to earn backlinks rather than merely create them. Having a vast link portfolio no longer brings benefits if those links don't drive traffic. 
To create valuable backlinks that generate clicks, each backlink should possess specific qualities that enhance your website's value:
1/ Link from an Authority Site: Backlinks should originate from authoritative websites related to your niche or industry. These authoritative sources boost the credibility of your backlinks.
2/ Niche-Specific Content: The content surrounding the backlink must be highly relevant to your niche or industry. This contextual connection makes the link more valuable.
3/ Drive Traffic: Backlinks should not just exist; they must carry traffic to your site. This ensures that they serve a practical purpose beyond link-building.
4/ Avoid Link Farms: Backlinks should not come from websites designed solely to create links. Search engines value links that are genuine and naturally integrated into content.
5/ Track your results: Keep track of your website's search engine ranking, organic traffic, and lead generation to see how your PCP Marketing efforts are paying off.