Travel content is becoming increasingly popular on YouTube, with two out of three US consumers watching travel videos when thinking about a trip.
This travel YouTube channel case study doesn't look at the success of a popular channel. Rather, it looks at the process of taking things in hand and the importance of YouTube as a social media platform.
So, I'll talk about TravelingRauf, my YouTube channel I have always ignored. I never thought of taking it seriously until I went on a trip.
However, even though I:
Joined YouTube on October 7, 2009.
Uploaded the first video on September 2, 2018.
Took one year-long break after this video on April 11, 2020.
Upload 5 more videos because of the Maldives tour.
I want to take it a little seriously (but nothing to interfere with my niche blogging, online entrepreneurial pursuits, and experiments). And I also want to document this journey and share it with you here on my website and on this YT channel.
The language of the TravelingRauf YouTube channel is Urdu, and the date of re-focusing on this channel is January 26, 2023, with YouTube Shorts.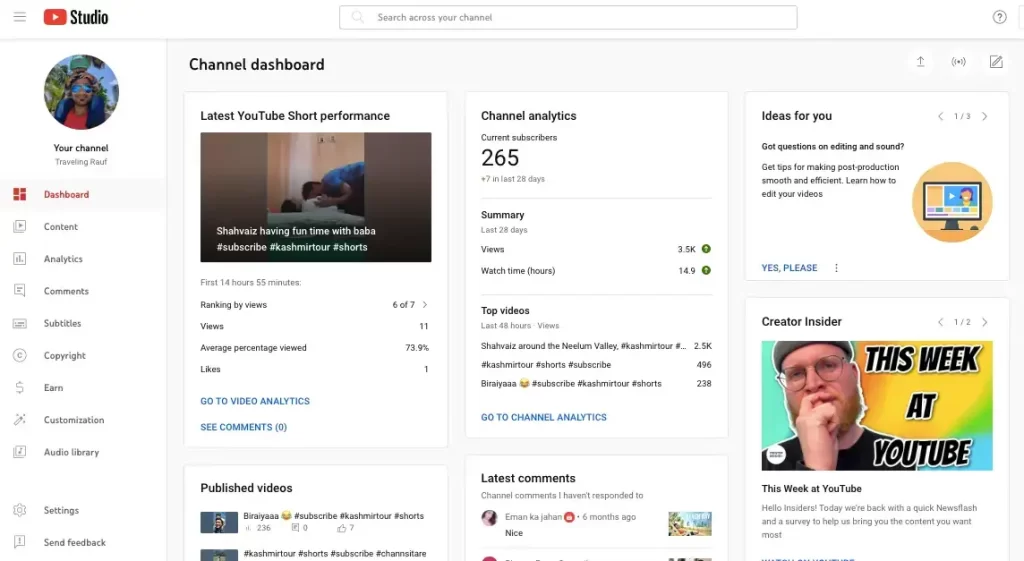 What Is TravelingRauf?
I'm Abdol Rauf, and TravelingRauf is my version of traveling. I dream of travel, and I travel to dream. So I started TravelingRauf.Com to share my findings about travel, places, and more.
Although I already had a YouTube channel that wasn't named TravelingRauf. So the moment I started the site on October 14, 2021, I also renamed my YouTube channel.
So TravelingRauf on YouTube is a travel YouTube channel where I share my experiences with family traveling. Yes, I travel with my beautiful wife (Aqsa) and two kids (Shahvaiz & Sahmeer).
Travel YouTube Channel Using the Power of YouTube Shorts
I never took my travel YouTube channel seriously until now. So, I want to spend my time with things that are working great. And I have researched YouTube Shorts is killing it!
And the second reason I want to go with Shorts is that I'm not traveling right now, and I have nothing to upload but old videos of my traveling to Kashmir and Maldives.
So I plan to upload YouTube Shorts daily on my travel YouTube channel and see where it goes! This is the table where I'll share my data and insights!
| Date | Action | Remarks |
| --- | --- | --- |
| Jan 26, 2023 | Started with 3 Shorts. | Excited! |
| | | |
| | | |
How Does This Travel YouTube Channel Make Money?
I don't make money with the TravelingRauf YouTube channel, as it was always a passion channel for me where I post family travel vlogs.
But I don't mind looking for monetization of it if the content works for me, which I think it can.
As travel and digital nomadism are getting popular daily, I'm sure I can find a way to make some bucks with it if I keep going!
But I'm now focusing on sharing travelogs and family travel moments.
Read on if you want to get inspired by a successful travel YouTube channel, learn YouTube, and make money with it.
Other Successful Travel YouTube Channels (My Favorites)
Keep Coming Back Because.
Keep coming back because I'll keep sharing more successful YouTube channels that get my eye. Also, I'll keep sharing data and insights about the travel YouTube channel (TravelingRauf) in this case study.
You must also start a YouTube channel right now because there are tons of reasons why YouTube is the best social media platform for investing your time.