What is content writing?
Can you do it?
And is it really worth it?
I'll answer these and tons of other questions about content writing in this post. Also, I'll break a few myths about it as well. By the end of this post, you should clearly understand what content writing is and what it isn't.
Sounds fair? Let's get geared right now.
What is Content Writing
If you google "what is content writing," Google serves you a knowledge box to the right of its result page. It's an excerpt from Wikipedia. Let's have a look at it: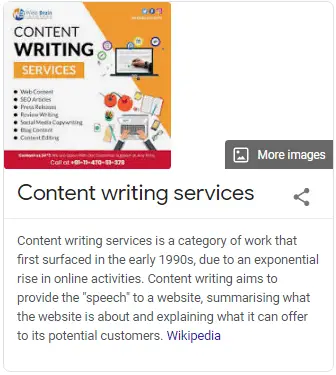 The definition includes words like 'online' and 'website.' It looks like content writing is all about 'online writing.' Let's have a look at another definition written by Backlinko's Brian Dean:

Brian's definition of content writing also includes the words like 'web content,' 'digital marketing, and blog posts. Again, it looks like content writing about writing for the web only. 
But what is my definition? Well, here's how I define content writing:
Yes, content writing is writing readable content for publishing, marketing, or distributing anywhere. I don't confine it to the online world only. Content is content, dude! It doesn't have to be 'online' to be 'content,' you know.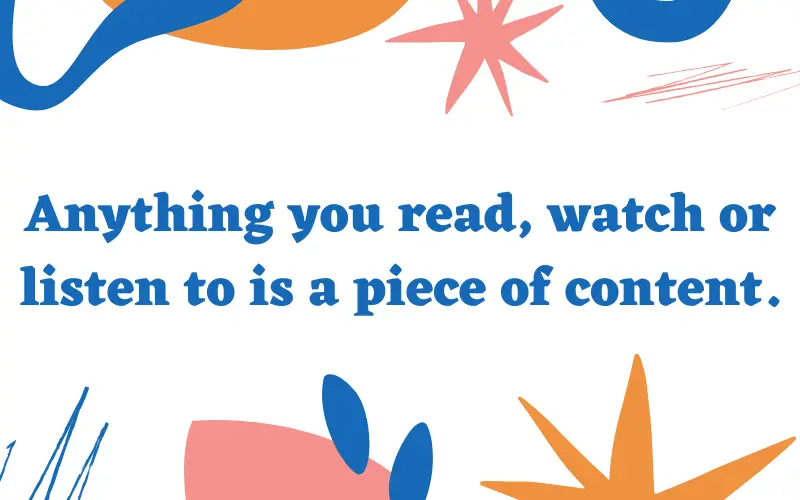 I don't know what the first piece of content ever created or written was. But I do know that it must be as old as Neanderthals. They were the first animals who created content in the caves.
Let's understand content writing with examples now.
Content Writing Examples
You can do 'content writing' or write words for different formats of content like:
| | | |
| --- | --- | --- |
| Infographics | Landing pages | Television series & shows |
| Articles | Flyers & brochures | Online/offline Courses |
| Webinars | Any marketing piece | Social media campaigns |
| Blog posts | Videos & images | Interviews & vlogs |
| Podcasts | Sales pages | News/announcements |
| Ad copy | Radio shows | Ebooks or books |
| Presentations | Quizzes & polls | Case studies |
| Checklists | Whitepapers | Reports |
| Email newsletters | Product descriptions | Syllabus |
| Business plans | Essays and columns | Guides & Worksheets |
What? So, you thought content writing is only about articles and blog posts? Well, it's not as I said earlier that 'content writing is writing (for) any content. You write content for Facebook when you comment under your friend's post on the platform.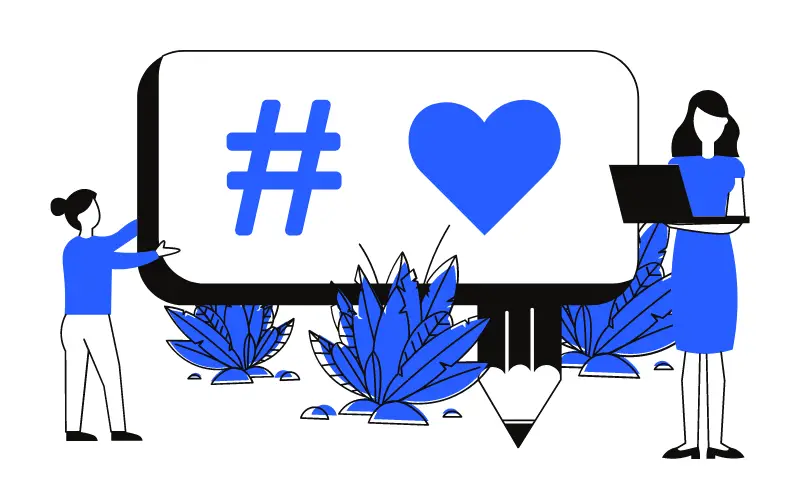 "But the sales page is all about copywriting." Yeah, but it still is a result of content writing. The purpose of creating a specific content doesn't change the definition of content. Makes sense? Comment under this post even if it doesn't. 
Myths about Content Writing
I've already told you any myths about content writing by now. Let me continue doing so 🙂
Content writing is only about articles or blog posts
Content writers only mirror content (not necessarily)
Writing content is not a realistic way to make full-time money
It allows plagiarism (well, not really)
Complex words are 'welcomed' in writing for the web
Content writing and copywriting are entirely different (the former is more general than the latter)
You need a degree in communication or English language
Share some other myths about content writing in the comments below.
What is a Content Writing Job
A content writing job requires you to write content for your client or the company you work at. The content usually may be an article or a blog post. It may be a flyer or a checklist as well.
It depends. But when you offer content writing services, you 'usually' write content for online resources like websites or blogs. For example, clients have asked me to write:
10 Things You Need to Amp Up Your Affiliate Commission
How to Start a Blog and Make Money From It
Best Gaming Laptops Under $500
I've shared these topics to give you an idea of what a content writing job looks like. But as a content writer, you don't only 'write' but do a lot of other things I'll discuss in the next section.
What is Content Writing in Freelancing
Content writing in freelancing refers to writing content for your client as a freelancer. It happens something like this:
You show your sample work anywhere (website, Fiverr, Upwork, and more)
You and clients connect (Fiverr, Email, and more)
Both of you decide on a plan (work, payment, and more)
You finish writing content for your client.
The client pays you for the written content.
And of course, you can add a lot of other steps before or after these five steps. As a freelance content writer, you don't only write content but also:
Fulfill the searcher's intent
Understand the target audience
Know the basics of on-page SEO
Market your writing skill effectively
Tell a captivating story in sync with the context
Stay calm, positive but strong during any communication
Know using tools like Google Drive, Grammarly, and more.
Yes, that's a lot of things! But then you don't feel like you're doing a lot of things because, after a time, you get used to them. But is content writing worth your time and energy? Let's find it out.
Future & Scope in Content Writing
You're surrounded by written content all the time! What do you think that much content has come from? Well, it comes from content writers, of course. Content writing has a fantastic scope right now and in the future as well.
To give you an idea, 409 million people read more than 20 billion pages on WordPress each month in 2020. 
7.5 million blog posts are published every single day on the internet. 
There were over 600 million blogs on the internet in Q1 of 2021.
71% of US businesses use Instagram today.
And the numbers are increasing daily.
Now answer my question: Who will write this much content? 
Yes, you got it. This is you if you are or will be a content writer.
And the content writing industry is booming without a doubt, especially in the recent times of the new normal. It's not going anywhere as long as we are on this planet because we'll keep creating content.
Let me answer straight to your questions now.
FAQs: What is Content Writing: Scope, Types, & Myths
---
How much does a content writer earn?
Honestly, it depends on your writing and marketing skills. The average content writer in the US makes about $52,121 per year. That's about $4343 per month and $25 per hour. Content writers from Pakistan or India make about $100 to $5000 per month. You may earn more, or below the numbers, depending on the value you add to your clients.
What is meant by content writing?
Content writing refers to writing content for different formats, companies, and clients. It may refer to writing an infographic, article, or Instagram post.
What is content in writing?
Content in writing is something you write. For example, a blog or social media post may be a piece of content. Content in writing may also refer to a flyer or brochure.
What is content writing in digital marketing?
In digital marketing, content writing is writing content for digital resources like social media or electronic billboards. The objective is to meet the goals of the digital marketing plan.
What is web content writing?
Web content writing, also called website content writing, is writing relevant content for websites. In web content writing, you may write an about page for a website. A service page on a website is also a piece of web content. The content usually contains a keyword to improve the site's SEO and targets a specific audience.
What is SEO content writing?
SEO content writing is planning, writing, and editing content with the primary goal of ranking in search engines like Google. Implement the best practices of on-page SEO while writing if you want to offer SEO content writing services.
What is B2B content writing?
B2B (business to business) content writing refers to planning, writing, and editing content with the primary goal of selling to businesses. It may include articles, emails, case studies, and more. In contrast is B2C (business to customer) content writing, in which you communicate with customers.
What is content mill writing?
Content mill in writing is slang used to identify a company or place where freelance writers are paid in pennies. These content mills can be great for many budding freelance writers. But the experts hate writing content for such mills.
What is the average per word for content writing?
The average price charged per word in content writing is 10 cents $1 per word. But honestly, it depends on a lot of factors, including your experience and marketing skills. Anything below 3 cents per word should be unacceptable if you write reasonably well.
What are content writing samples?
Writing samples are the pieces of content you've written previously to showcase your ability to work as a content writer. You may have created these samples for yourself or your clients. Have a look at these writing samples for different categories of content.
What is the difference between blogging and content writing?
Content writing refers to planning, writing, and editing content. On the other hand, blogging is creating and/or publishing content of various formats in chronological order. Unlike content writers, a blogger is usually on a platform like Instagram or WordPress.
What is the difference between copywriting and content writing?
Copywriting is a type of content writing which has the primary purpose of selling or marketing. So, the most significant difference between copywriting and content writing is the purpose.
What is byline content writing?
A byline is a short introduction of a writer at the end of the article or post. Byline content writing may be writing those short paragraphs for writers. Or it may be writing and publishing your content under your name. For example, Daily Times has published this op-ed article under my name here.
What is SEO writing content?
SEO writing is the process of planning, writing, and editing content based on the best practices of SEO. Content marketers and writers use SEO to boost their content's ranking organically on search engines like Google.
Too long, didn't read?
So what is content writing? Well, it's writing any content for any purpose. But usually, content writing refers to planning, writing, and editing content for online resources like websites, social media, or blogs. As a content writer, you usually write to fulfill the searcher's or reader's intent.
For example, if you are writing on 'how to tie a tie,' your job as a content writer is to help your reader learn to tie a tie. That is why my mission as an SEO writer is to help people find the right answers online with valuable content. I hope it makes sense.
New here? Subscribe to my weekly newsletters where I talk about content entrepreneurship and SEO writing. This post is a part of my weekly series called 'Guide to Writing Killer SEO Content.'
Get Free Insight Every Week
Straight Facts. No Spam. No Bullshit!