82% of consumers said they had been convinced to buy a product or service after watching a brand's video on YouTube. It's the second most visited website in the world, with over 30 million visitors daily.
And I believe YouTube is the best social media platform for investing your time and effort. If this doesn't convince you, I have 11 solid reasons why start a YouTube channel in 2023.
Why Start a YouTube Channel in 2023: 11 Reasons and Benefits
Everyone has different reasons for starting something in life. As a content entrepreneur, I want to make money online. And that's probably my biggest reason for starting a YouTube channel.
But that's not the only benefit you get with a YouTube channel. There are countless reasons, but let me share the 11 most solid ones. Let's dive in!
1/ Become a professional content creator and build your brand.
A YouTube channel is a great way to become a professional content creator. You can create content that resonates with your audience, which can help you build your brand.
You can do whatever you like because there's an audience for you.
You can build relationships with industry leaders, create a portfolio of work to show off your skills and establish yourself as an expert in a particular industry.
Above all, you will be able to create content that you are passionate about and make a name for yourself in the process.
2/ YouTube promotes your videos regardless of your channel's size.
With YouTube's expansive reach, small creators have a viable way to grow their audience and build an empire. So, don't worry, even if you are starting, because you'll still be rewarded!
YouTube promotes your content regardless of your channel's size, so you can quickly reach more people and grow your brand. That's one of the biggest reasons for starting a YouTube channel.
You don't need a massive following to be successful on YouTube; you must create quality content.
With the proper knowledge and tools, you can create videos that reach the right people and grow your business.
YouTube's algorithms constantly adapt to new trends and changes, giving you more opportunities to increase your reach.
The bottom line is that YouTube provides an excellent platform for small creators to create and share their content with the world. 
3/ YouTube rewards you generously.
Starting a YouTube channel is one of the best ways to monetize your creative work.
YouTube offers many ways to earn money, such as:
Super Chat while live streaming.
Channel memberships.
And you use YouTube to make money in even more ways, such as:
Affiliate marketing.
Sponsored posts.
Crowdfunding.
Merchandise sales.
Brand awareness.
Offer services (consulting and more).
Organize virtual events and webinars.
And this is just a partial list of ways to make money with YouTube. Watch vidIQ's guys answering whether you should start a channel on YouTube or not:
TLDR; YouTub You can use the platform to get rewarded handsomely for your content.
4/ Establish yourself as an authority and an expert in your niche.
An authoritative presence on YouTube is an excellent way to showcase your expertise. It's also one of the best benefits of starting a YouTube channel.
YouTube can be an excellent platform for taking your career to the next level and becoming an expert.
By creating high-quality content on YouTube in your free time, you can grow your brand and establish yourself as an authoritative figure in your niche.
The great thing about YouTube is that even viewers who don't know you can easily find your content, watch it, and gain insights.
So, you can quickly become an expert in your viewers' eyes, which can help you land speaking engagements, consulting gigs, and other opportunities.
YouTube is an effective tool for establishing yourself as a thought leader in your field. It's worth investing the time and energy into building a presence on YouTube.
5/ Build relationships with other creators and brands.
Creating relationships with other YouTubers and brands can help you to gain exposure and build a bigger following.
Start by networking with creators in your niche and getting involved in collaborations. As your channel grows, you can reach out to bigger brands to explore potential partnerships.
Working with like-minded people can help you make connections, share ideas and get valuable feedback to improve your videos.
Networking and building relationships with influencers and brands can open up opportunities for you to promote your channel and increase your subscriber count.
If you're starting, look for smaller creators and influencers who are also starting and collaborate with them to help each other get more exposure.
6/ Learn the ropes of video production and editing.
YouTube channels don't require high-quality videos to help get your message across. But you must improve your skills along the way.
That's where YouTube comes into play! It's a playground for everybody, particularly those who want to excel in video production and editing.
Make videos.
Upload them on YouTube.
Analyze your reach.
And improve along the way.
Use YouTube to test your skills.
Learn the basics of video production and editing. This includes understanding lighting, sound, framing, and editing techniques such as cropping, cutting, and adding effects.
And you learn Youtube on YouTube 🙂
That's one of the best reasons for starting a YouTube channel. By taking the time to become proficient in these skills, you'll be able to create engaging content that your viewers will enjoy.
7/ Use YouTube as a platform to showcase your skills and talents.
YouTube is a great platform to showcase the things you are passionate about and the skills you have.
Whether you like singing, dancing, cooking, or creating art, YouTube allows you to share your talents with the world.
Your videos can also attract potential employers looking for people with the skills you possess.
You can also use YouTube to demonstrate your knowledge and skills in a certain field.
You can create videos that show people what you know and how you can help them learn. This can help you build an audience and establish yourself as an authority in your field.
8/ Launch your own business and promote your products.
Build your brand and reputation, create content that will attract potential customers and clients, and market your products and services to viewers. That's probably the best reason to start a YouTube channel if you are a business or an entrepreneur.
You can use videos that show how to use them, share tutorials and tips, or use YouTube ads to reach your target audience. Get more customers and increase your impact.
You can also use your channel to boost sales and increase your existing business's reach.
With the right content and strategy, you can build a successful business on YouTube without a doubt.
9/ Repurpose your YouTube videos for other media platforms.
Creating videos for YouTube is a great way to get your content out there, but don't forget about other media platforms.
Whether it's Instagram, TikTok, or even your blog, there are plenty of ways to repurpose the content you create for YouTube.
Consider creating a Reel or Shorts based on your video or breaking it down into a blog post. You can even transcribe your video into a podcast episode or script.
Include links to your other social media channels or website in the video description. You can also create a video that promotes your blog post or podcast episode and use it to drive more traffic to your other platforms.
By leveraging the power of YouTube to promote your other media platforms, you can reach even more people and expand your reach.
10/ Make money while doing what you love.
YouTube is a great platform to make money while doing what you love. That's one of the best benefits of starting a YouTube channel.
You don't need to something extra.
Do you love niche blogging like me? Make a video about it.
Do you love cooking? Just press "record" before you do it.
Someone even made money by helping people's kitten poop: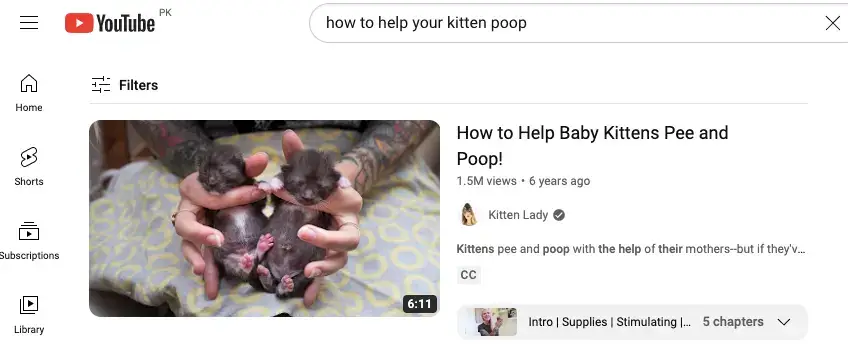 You can monetize your content and earn money through ad revenue, affiliate marketing, and even sponsorships. Not to mention, your products and services can be sold directly on your channel.
You can turn your passion into a full-time job through your YouTube channel. That's my mission at abdolrauf.com.
You'll be able to make money while doing what you love, something that many people only dream of.
Plus, your content will reach a much wider audience, allowing you to make a bigger impact and reach more people.
11/ Start a YouTube channel because YOU CAN.
Having your own YouTube channel is an empowering experience.
It s your platform, your voice, and your reach.
It's a way to communicate and engage with people worldwide. You can make a difference, express yourself, make money, and be heard with the right content.
Creating a YouTube channel and uploading content is more accessible than ever. There are no financial requirements or special software needed to get started.
"But I don't think I can start a YouTube channel," you say!
That's where you are wrong!
Nothing matters but you.
YOU CAN start anything regardless of your current situation, knowledge, or equipment.
The key is to improve along the way.
And YouTube is important in helping you improve along your YouTube journey.
That's all for now! Did I give you enough benefits or reasons why start a YouTube channel in 2023? Let me know in the comments below because I always reply :) Start learning YouTube >.