YouTube is much more than just a platform to watch videos. And in this op-ed post, I'll share the top 9 reasons why YouTube is the best social media platform to invest your time and energy into.
So if you're looking for an exciting way to reach a large audience, make money passively with YouTube automation, and engage people as a video creator, YouTube is for you.
The video platform offers almost everything you need to do a successful online business, from editing tools to analytics reports.
Discover: Best ChatGPT Prompts for Productivity
Here's a disclaimer; you can crush it on any social media platform and succeed! That said, let's dive deep into why YouTube is good for everybody, not just influencers.
1/ YouTube Offers Long-Term Value
Yes, videos you upload on YouTube keep getting views without any extra effort on your part. In other words, YouTube videos offer long-term value compared to other social media platforms, where your post will be gone forever in a few hours or days.
For example, this YouTube video has 1.5 million views at the time of writing this post. And this post keeps getting over 708 views per day.
EVERY! SINGLE! DAY!
Why? Because kitten lovers want to know "how to help your baby kitten poop," the Kitten Lady on YouTube provides a great solution to this problem in the video.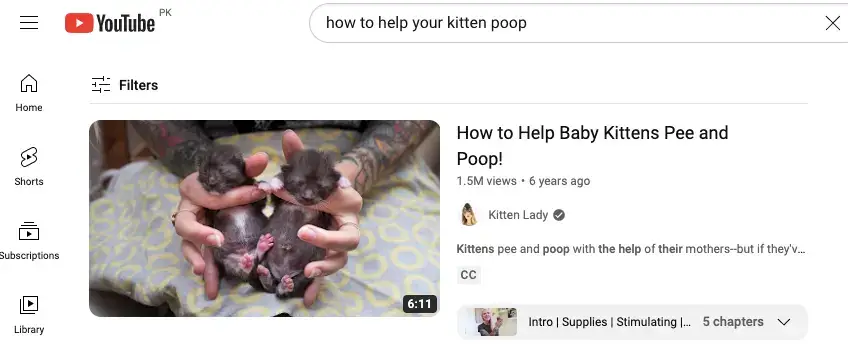 That's probably why YouTube is the best social media platform for investing your time as a content creator.
And even if your video gets old, you can always refresh the title, thumbnail, and description of the video to get more views and stay relevant. For example, you can include or change affiliate links and more.
2/ YouTube is the New TV
Just a few years ago, YouTube was very much an underdog! And traditional media companies like Viacom sued YouTube for $1 billion, alleging copyright infringement.
But now YouTube has become the new TV, with more viewers than all cable networks combined.
YouTube users view a whopping 1 billion hours of video each day. That's 5 billion YouTube videos being watched each day!
That's huge! Isn't it?
And YouTube will only keep growing as more people start using smartphones and watching videos online.
"Yeah, but I'll not get those views, I know," you'll say.
That's when you'll be wrong!
If you are consistent in sharing valuable videos, you WILL get views. And even if you don't get huge numbers, you can still reach your audience and make money, no matter how small your channel is.
And even if you have just 20 or 30 subscribers, YouTube can still help you make money with affiliate links, sponsored posts, and more, if not with ads.
For example, Digital Creator Avi made over $250,000 in one year, with his YouTube channel having less than 10k subscribers.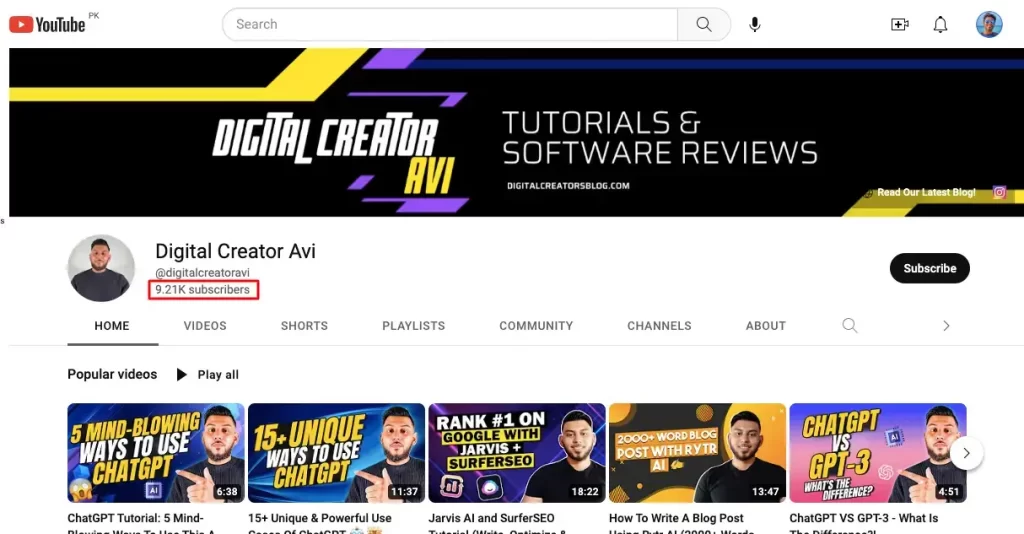 3/ YouTube is Highly Popular with All Ages
According to an article on Statista, YouTube is the most popular social media platform among US adults aged 18 – 24, followed by Instagram and Snapchat. And it's not just the US, but many other countries too!
When starting on YouTube, you don't have to worry about the age group because YouTube is popular with all ages. So regardless of your niche, you'll find an audience interested in your content.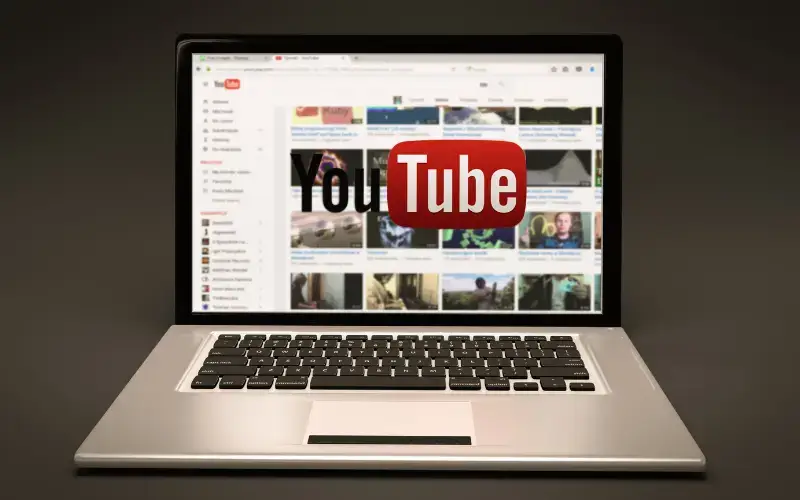 Do you want to make videos about scuba diving? You'll find an audience for it.
Do you want to upload videos on YouTube about baking bread? You'll find an audience for it too!
And you'll find an audience if you publish videos geared towards retired people.
The point is YouTube is so huge you can almost always find an audience loving your visual content.
And if the views don't come right away, don't worry! Ensure you create high-quality content and optimize your videos for YouTube and its users.
With that said, YouTube is the best social media platform to start with if you want to build an audience and make money.
4/ YouTube Makes Money Easier Than Other Platforms
YouTube makes it incredibly easy to make money compared to other social media platforms. There are many monetization opportunities on YouTube for both small and large channels.
You need a few thousand subscribers and hundreds of views per video, and you can start making money with YouTube. That's probably the best reason why start a YouTube channel right now.
Once you cross 1,000 subscribers and 4,000 watch hours or 1 million Shorts views in 12 months, your YouTube channel is eligible to join the YouTube Partner Program. This means you can start showing ads on your videos and make money with YouTube videos.
And that's just one way to monetize your YouTube videos.
You can also monetize your videos with:
Merchandise sales.
Affiliate marketing.
Sponsored posts.
Crowdfunding.
Channel memberships.
Brand awareness.
Super Chat while live streaming.
Offer services (consulting and more).
Organize virtual events and webinars.
And the list goes on and on! You can truly revolutionize your business with YouTube.
And you don't need millions of views to make decent money with ads and other monetization methods! Plus, there are tons of tutorials, tips, and tricks to help you make the most of YouTube.
You can add tons of affiliate links to the descriptions of your YouTube videos, while you cannot do this on platforms like Instagram.
In a nutshell, no platform comes close to YouTube when making money with social media! It was probably the first social media or video-sharing platform to help its creators make money.
5/ YouTube Helps Creators Build Community
The YouTube community is very active and engaged. People comment and share your videos more than other platforms, which helps your channel grow.
What's more, YouTube helps creators build a community around their content. You can engage with your audience via comments, live streams, the community tab, and more as a video creator.
You can also use end screens and cards to keep people watching longer or redirect them to other relevant videos on your channel.
And let's not forget about creating playlists and YouTube Shorts to keep people coming back for more. The platform is great at helping promote your content through its curated recommendations and algorithms.
6/ YouTube is the 2nd Largest Search Engine
YouTube is the second largest search engine after Google and offers you the opportunity to come up in search results. Many may disagree because the platform has become more than just a search engine.
When someone searches for a particular keyword on Google, the search engine shows your video in its search results if it's relevant enough. This gives you an edge over other platforms like Instagram or Twitter.
If your videos are optimized correctly, not just people who subscribe to you will see the content but also those who search for it. So ensure you take advantage of YouTube's powerful search engine optimization when uploading and optimizing your videos!
For that, you can use YouTube growth tools like TubeBuddy or vidIQ.
7/ People Love Watching Videos
And when it comes to videos, YouTube is the only answer!
Unlike other platforms where you have to scroll through text and images, YouTube allows users to watch videos. Or visuals, mostly!
People love watching videos, whether it's Shorts, tutorials, vlogging, or entertainment. They want to get help or entertainment immediately. And the best way to offer help or entertainment is to SHOW THEM.
And videos can help you show them the solution they need.
They'll buy if you show them your product or service can solve a problem.
If you show that you can help them dress amicably, they'll come back for more fashion suggestions. That's how human beings work!
Also, videos are easy to consume and engage with.
And YouTube is the undisputed king when it comes to video-sharing platforms! That's probably one of the top reasons why YouTube is the best social media platform for creators and viewers.
8/ YouTube Offers Detailed Analytics
YouTube Analytics is probably the most detailed analytics tool in social media.
It gives you detailed insights into watch time, impressions, audience retention rate, views count, likes and dislikes, average view duration, and more. You can also see which videos are performing better or worse.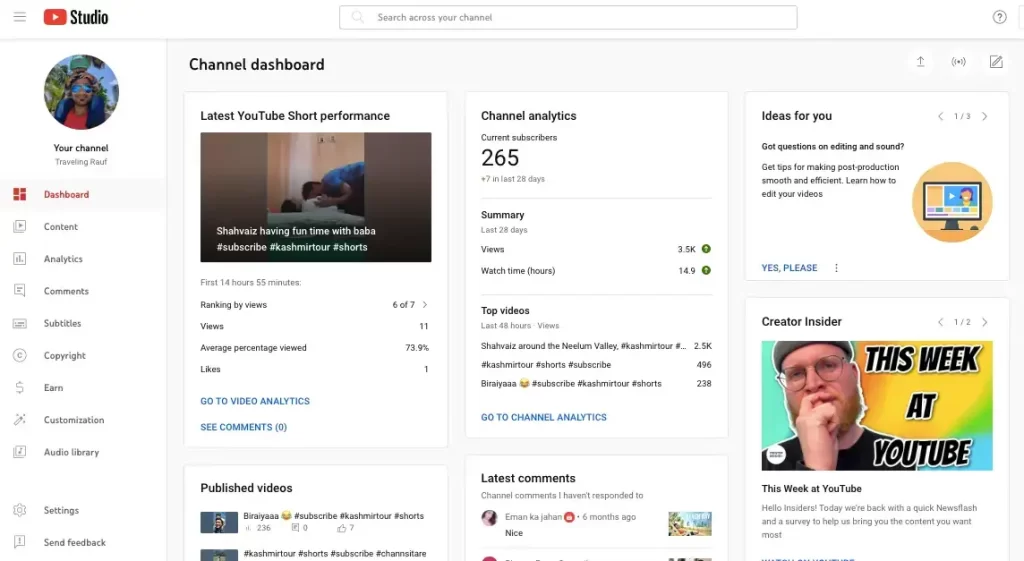 YouTube Analytics can identify your best content (more watch time, more views, etc.) and optimize future content. Also, the analytics gives you complete audience insights!
And the best part is that all this data is provided to you for free! You can use it to improve your visual content strategy and figure out the kind of videos you should make.
9/ YouTube is the Best Social Media Platform for Users
People can do a lot of things on YouTube. They can learn, entertain themselves, get help, and much more.
You can find content from different sources like influencers, celebrities, organizations, etc. You can also watch music videos, news updates, movie trailers, songs, and whatnot!
Tons of YouTube channels offer immense value in the educational world.
For example, Mentour Pilot shares his point of view from inside the airline industry! His insightful videos about aviation accidents and crashes hook many pilots from across the globe (not just the laymen like us).
And it's all free! As a user, you don't have to pay a penny to watch your favorite content or even create your channel.
The best platform for users means the best platform for creators. You must learn YouTube and make the most of the platform right now. Do you want more reasons?